Feel good again: 'Use it and Improve it!'
Ashley Lorch, PT, NCS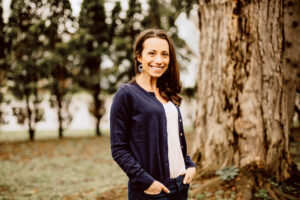 Thrive Physical Therapy brings exceptional physical therapy to you — in the comfort and convenience of your own home.
While working as a physical therapist in multiple settings, Thrive's founder, Ashley Lorch, saw all too often that barriers such as finding transportation, a lack of consistency, and not having access to a therapist who specialized in their condition prevented people from getting the most out of their rehabilitation. Thrive was created to solve these problems and bring compassionate and effective care directly to you.
Our therapists are specialists in working with aging adults and people with neurologic conditions and are ready to work with you in the place that matters most — your home.
What makes Thrive Physical Therapy special?
A unique model — Thrive blends the intensity of outpatient physical therapy with the convenience of a house call. Unlike with home health agencies, you do not need to be homebound to qualify for PT with Thrive. And, unlike outpatient PT clinics, you don't need to travel to an appointment in a busy gym. We make it easy for you to get the consistent therapy you need.
Personalization — Because we come to you, our therapists can focus on your specific challenges right where you're having them. Your therapist will get to know you and what matters most to you in your life. This relationship is the foundation that allows us to customize your PT to suit your personality, interests and goals.
Specialization — Our therapists are experienced in helping older adults navigate the challenges associated with aging. We also have board-certified neurologic specialists who are experts in disorders that affect the brain, like stroke, MS, and Parkinson's disease.
What is a neurologic specialist and why is that important when choosing a physical therapist?
Many people don't realize that physical therapists can be specialists — just like doctors specialize in different areas of medicine. Neurologic specialists are highly skilled at treating complex conditions including stroke, Parkinson's, spinal cord injury, MS and acquired brain injury. Their neurologic expertise also makes them great at helping people suffering from balance disorders and falls because these problems often begin in the brain too. It's important to see a physical therapist who is experienced, knowledgeable, and skilled in your condition to help you reach your true potential.
What kind of things do you do in PT?
Thrive empowers our patients to take an active role in their rehabilitation. Together, we will set goals that are meaningful to you, and then we'll work together to achieve them. Our therapy is always based on the latest research and always considers our patient's unique preferences.
One of our favorite mottoes is "Use it and Improve it!" Our patients can expect to be up and moving during their sessions and to learn how to live their best, during and after their physical therapy course of treatment. And you don't need to worry about having workout equipment at home—your friendly physical therapist will bring the equipment right to you.
Ashley Lorch, PT, NCS • Thrive Physical Therapy, PLLC • (585) 851-8259 • www.thriveptandwellness.com