Audiologist Sarah Hodgson talks about what sets Hart Hearing apart from the competition. "We truly mean it when we say we take a 'personal approach to hearing care,'" says Hodgson.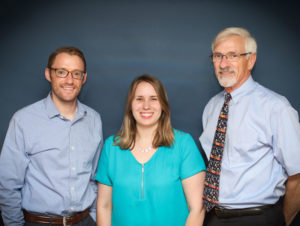 Q: Tell us about the history of Hart Hearing and Balance Centers (HHBC)
A: HHBC was founded over 40 years ago by audiologist Stephen Hart to provide comprehensive, state-of-the-art hearing health care with a personal touch. The practice has grown to include five Rochester area locations, making it convenient for patients to schedule appointments. Each office is staffed by a doctor of audiology, trained in fitting and dispensing the most pediatric hearing test as well as advanced hearing devices and accessories. Dr. Hart's son, Peter, joined the practice in 2012 and I came on board in 2017. Most recently, Katie Murphy joined as audiology resident. She is excited to work with the team to guide patients on their journey to improved hearing, communication and consequently, enhanced quality of life.
Q: What makes your practice unique?
A: At HHBC, we truly mean it when we say we take a "personal approach to hearing care." Our goal with every patient is to find the best solution for their needs, their hearing loss, their lifestyle and their budget. We see many patients who have been to other providers or big box retailers and are simply not satisfied. Every person's situation is unique. We spend time getting to know our patients, and often ask that a family member or close friend come along so together we can devise a plan that best suits their situation. When someone suffers from hearing loss their whole family may be affected. Often people wait months or even years to do something about their hearing loss. We encourage them to have support at home in addition to the support they receive in our office.
Q: Do you only treat hearing hoss?
A: Some people may find they do not need hearing aids but suffer from another condition called tinnitus, or ringing in the ear. This is very common; in fact, more than 50 million Americans experience tinnitus. It can interfere with sleep, concentration and even job performance. There are several ways to minimize tinnitus. An evaluation with one of our audiologists will help determine the cause of your tinnitus and develop a management program.
Q: What exciting things are happening at Hart Hearing and Balance Centers ?
We are excited to announce our partnership with the American Institute of Balance (AIB). AIB is a leader in educating, diagnosing and treating equilibrium disorders. The Institute is widely recognized for providing practitioners with the most current clinical and scientific breakthroughs and treatments. Hart Hearing and Balance Centers has been awarded the designation of Center of Specialty Care. The addition of our balance program means we are now able to serve the comprehensive hearing and vestibular needs of the Greater Rochester area.
101 Canal Landing Blvd., suite 10, Rochester, NY 14626 • www.HartHearing.com.