In Monroe County, about 835 people go without a home on any given night
By Ina Buga, Joy Snyder and Christine R. Birnie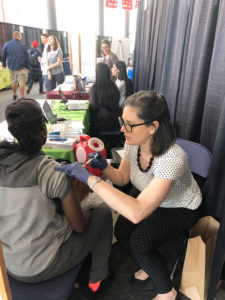 There are approximately 91,897 people in New York state without a place to go on any given night, according to the National Alliance to End Homelessness.
This represents 46 homeless per 10,000 people, placing New York on the same level with Hawaii for the highest rate of homelessness per 10,000. In Monroe County, there are approximately 835 people without a home on any given night, constituting 11.2 homeless per 10,000 people.
Homelessness and poverty are significant determinants of health. The homeless are at increased risk of chronic illness, poor mental health, alcohol and substance abuse, and smoking. Among inpatient admissions, psychiatric disorder and substance abuse are the leading causes of hospitalizations of homeless patients compared to non-homeless. They may often experience violence before and after becoming homeless. Additionally, it is reported that the mortality rate in the homeless is four to nine times higher than in the general population.
There are many services in Rochester that are working to better serve the healthcare needs of the homeless.
Project Homeless Connect
Project Homeless Connect hosted its eighth annual "Day of Services" in Rochester Oct. 15. This one-stop-shop gathered a broad range of community agencies and professions in one location to offer the homeless and those at risk of homelessness access to health care, immunizations, social services, legal services, medical care, food, haircuts and other services.
Attendees had the opportunity to be assessed for acute illnesses, health screenings and management of chronic conditions.
Guests were offered HIV and hepatitis C testing, information on pre-exposure prophylaxis for HIV, naloxone training and naloxone kits. Attendees also received information on medication-assisted addiction (MAAT).
A dental van was accessible at the event where guests had the opportunity to receive a full array of dental services, procedures and education. Through a partnership with Wegmans Pharmacy, students and faculty from St. John Fisher College Wegmans School of Pharmacy administered influenza immunizations to those attending or volunteering at the Day of Services. All services were free of charge and provided by volunteers from the community. Although the project was focused on the homeless and those at risk of homelessness in the Rochester area, it was free and open to anyone who wanted to attend.
St. Josephs Neighborhood Center
St. Joseph's Neighborhood Center is a service in the city of Rochester that is accessible to individuals that might not have access to healthcare services. The center provides comprehensive physical, dental and mental health services to uninsured and under-insured individuals in the greater Rochester area. Upon arrival at St. Joseph's Neighborhood Center, an individual first meets with a healthcare access specialist who performs insurance eligibility screening, application assistance and Medicaid enrollment. Since many homeless qualify for public services such as Medicaid, this support is valuable to gaining access to the care needed. If the individual is not eligible for public assistance, the center will continue to provide care until health insurance can be obtained.
Healthcare for the Homeless Program
Healthcare for the Homeless Program (HCHP) is a community outreach program through Rochester Regional Health providing quality comprehensive primary medical and dental care, diabetic and nutrition education, and intensive case management services for the homeless population in the city of Rochester and Monroe County. Services are provided at area homeless shelters, mobile medical unit, and at the brick and mortar clinic on Genesee Street.
UR Well Clinic
The UR Well Clinic is a student-run medical outreach program that provides health care services to uninsured and under-insured adults in the Rochester area. Patients are provided care by medical students from the University of Rochester School of Medicine and Dentistry (SMD) and pharmacy students from St. John Fisher College Wegmans School of Pharmacy in consultation with attending clinicians. The clinic offers routine physical examinations, influenza immunizations, PPD [Purified Protein Derivative] placement for tuberculosis screening, ongoing care for chronic conditions, health education and preventive medicine. The clinic also offers specialty services such as orthopedics, neurology endocrinology and ophthalmology. Patients who require follow-up treatments receive referrals to other health care clinics.
UR Street Outreach
UR Street Outreach is another student-run program at the University of Rochester SMD. The program serves the homeless population in the Rochester area whose needs are not met by the UR Well clinic. UR Street Outreach brings medical services to the homeless, seeking out camps where the homeless live, to better make contact with the homeless. This outreach is done in the hopes to establish relationships and trust to better provide the care homeless individuals need.
These are a few examples of the outreach programs providing healthcare to the homeless in the Rochester area. Despite the many services available, it still remains a challenge to reach all of the homeless and to provide the care needed. Although most homeless qualify for health insurance under the Affordable Care Act, adequate resources and support must be made available to this uniquely underserved population.
Ina Buga is a final-year pharmacy student at the Wegmans School of Pharmacy at St John Fisher College, who participated in a service learning clinical rotation at St. Joseph's Neighborhood Center. Joy Snyder, a pharmacist and a public health pharmacy fellow, and Christine Birnie, R.Ph., Ph.D., dean of the Wegmans School of Pharmacy, served as mentors and the preceptors for the service learning rotation.
Photo: The Mobile Medical Unit stationed at St. Joe's House of Hospitality