By Ernst Lamothe Jr.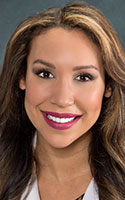 Now with the summer in full swing and people outside for longer periods of time, there is a risk that you could be enjoying yourself while damaging your skin.
"One in five Americans will develop skin cancer in their lifetime. Skin cancer is preventable with strict sun protection and optimal skin care," said physician Mara Weinstein, assistant professor of dermatologist at the University of Rochester Medical Center. "The skin is the largest organ on the body and maintaining a healthy skin barrier with adequate moisture will help prevent infection and improve skin conditions like eczema."
Weinstein, who sees patients at UR Medicine Dermatology's College Town location in Rochester, discusses five facts about proper skin care.
1. Myths abound around skin care
You will understand that everyone has their own personal view about skin care, whether that is the kind of sunscreen you should put on, while others believe the natural rays of the sun should glisten your skin without sunscreen, especially on cloudy days. 
"In fact, we know 80% of ultraviolet rays will penetrate through cloud cover," said Weinstein. "Another myth is that darker skin individuals don't have to wear sunscreen, but the truth is sun exposure in the form of UV rays can lead to premature aging, damage DNA cells, contribute to the formation of sun brown spots and worsen hyperpigmentation. Darker skinned patients can also develop skin cancer, although the risk is less."
Ultraviolet rays can also penetrate through window glass, so sunscreen is essential if you work close to a window throughout the day or if you are driving. Many times people forget to apply sunscreen to the backs of their hands.
"I see many patients with brown spots and precancerous lesions on the backs of their hands," said Weinstein. 
She also recommendations opting for sunscreen with active compounds such as titanium dioxide and zinc oxide. These are natural compounds that sit on the surface of the skin and deflect sunlight so that UV radiation doesn't penetrate the skin. If you are shopping for anti-aging skincare that's natural and safe, read this article about Bakuchiol. You can get products that are made out of natural ingredients, which are skin-friendly.
2. Sunscreen for babies 
The American Academy of Dermatology recommends that babies younger than 6 months old not to wear sunscreen. Instead, they should wear sun protective clothing like the one sold by this wholesale t-shirt screen printing company with a UPF of 50 or higher, avoid the peak hours of sunlight exposure between 10 a.m.-2 p.m. and also seek shade when outside.
"For babies older than 6 months old, sunscreens with mineral blockers are safe to use. They should be applied at least 15 minutes before going outside and reapplied every two hours with consistent sun exposure," said Weinstein.
3. Importance of vitamin C serum.
Vitamin C is an antioxidant and protects your skin from free radical damage and oxidative stress caused by UV exposure and pollution. This can lead to skin aging and wrinkling in addition to the development of solar lentigines or sun spots. The antioxidant properties of vitamin C help fight free radicals and damage caused by UV radiation.
"It is an essential part of a daily skin care routine and should be applied in the morning after cleansing and before sunscreen," she said. If you see your skin worsening by the day, maybe you already need a Medical Dermatology Treatment such as a keloid treatment if you have some keloids you want to get rid of. You may also consult a dermatology expert.
4. Wear hats
Hats are an essential part of protecting your skin from the sun. A wide-brimmed hat is preferable because oftentimes we will see skin cancers develop on the top of ears, tip of nose and back of the neck where a regular baseball cap would not cover.
"Wide brimmed hats will protect your skin in these often forgotten areas. Let's not forget the importance of protecting the scalp as well," said Weinstein.
5. Daily skin care
Skin care regimen recommendations will vary based on skin type, age and specific concerns such as acne, dry skin, aging skin. In general, a skin regimen will consist of a vitamin C serum in the morning paired with sunscreen (SPF 30 or higher) and a retinoid or retinol cream at night, which helps promote cell turnover leading to increased collagen production and clear pores.
In your 20s, Weinstein recommends washing at least once daily with a gentle cleanse and applying an antioxidant serum to prevent free radical damage from sun and pollution. In your 30s, add a cleanser with Alpha hydroxy acid (AHA) like glycolic acid to gently exfoliate two to three times weekly and continue a daily antioxidant serum. In your 40s, use a rich moisture cream at all times containing lipids and ceramides to restore moisture barriers, which is lost with age and choose an eye cream with peptides and growth factors. In your 50s, cleanser or cream with an AHA like glycolic acid once or twice a week, antioxidant serum and eye and neck cream.