New president of Rochester Regional Health Foundations talks about new position, the organization's mission and her fundraising efforts during the pandemic
By Mike Costanza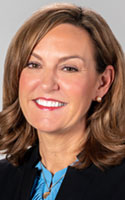 Kelly McCormick-Sullivan, the new president of Rochester Regional Health Foundations, has taken the nonprofit's helm at a time when the coronavirus pandemic limits its ability to fundraise.
The organization, which is Rochester Regional Health's charitable arm, helps bring in the money that finances the health care giant's operations. Those being cared for at about 150 facilities across the Finger Lakes region, including Rochester General Hospital, Unity Hospital in Greece and Clifton Springs Hospital & Clinic in Ontario County, benefit from the nonprofit's work. In 2020 alone, the 37 employees of Rochester Regional Health Foundations raised about $20 million.
In Good Health spoke to McCormick-Sullivan, who started her job on Nov. 30, asking her about her background, the organization she heads and the difficulties of fundraising in this climate.
To those challenges, the Rochester resident brings the knowledge and experience she gained in a variety of high-level positions in the field of health care, including that of resident and CEO of Ronald McDonald House Charities of Rochester, NY.
Q. What is RRHF's mission?
A. Getting out into the community and building the generous support of individuals, families, companies and foundations to help Rochester Regional Health achieve its mission of enhancing lives and preserving health. At the end of the day, it comes down to relationships and connecting people with the amazing work that's happening within health care.
Q. You spent about 10 years in the corporate and academic worlds before entering the field of nonprofit health care. Why did you make the switch?
A. I grew up in a household of people who were on the front lines of health care, and it was something that I always wanted to do. My mom was a registered OR (operating room)nurse and my dad was the president and CEO of Unity Hospital for 35 years. When he started, it was actually part of Park Ridge [Park Ridge Hospital, now named Unity Hospital, which subsequently became part of Rochester Regional Health].
In 2020 alone, the 37 employees of Rochester Regional Health Foundations raised about $20 million.
Q. Before taking your current position, you were president and CEO of Ronald McDonald House Charities of Rochester, NY for about three-and-a-half years. Can you tell the readers of one of your accomplishments while with that role?
A. We were able to demonstrate to the healthcare community both at Rochester Regional and at the [University of Rochester] Medical Center that the programming that Ronald McDonald House provides impacts the quality of care. It decreases the cost of care and it improves the family experience.
Q. You then took RRHF's helm. What was that like for you?
A. In a sense, it was like coming home. My dad was the president and CEO at Unity, and I have a strong connection to the health system because of that. It's always been my goal to work in some capacity supporting not just Unity, but the entire health system.
Q. What kinds of challenges has the coronavirus pandemic posed for you, and for RRHF?
A. Starting any new job is always a challenge in and of itself, coming up to speed and just the learning curve. It's also difficult to do fundraising during a pandemic, but yet it's never been more important. The health system needs philanthropic support.
Q. Can you tell us some of the difficulties that you and your staff are encountering because of the need to stay safe from the virus?
A. You can't be out meeting one-on-one with donors. I'm a firm believer that fundraising is all about relationships, but it's challenging to try and do that over the phone or in Zoom. It's just not the same as being in person. A lot of the fundraising events have also had to be canceled. Despite that, Rochester Regional Health Foundations is running fundraising campaigns, including the COVID-19 Support Fund. The campaign has brought in about $375,000 since it began in the spring. The funds support the greatest needs of patients with COVID-19, as well as frontline teams and researchers as they work to combat — and help end — this worldwide health crisis.
Q. Are there other ways in which you plan to take on the challenges posed by coronavirus?
A. I like to look at it for every challenge there's an opportunity, and that's how we're going to charge into 2021. The opportunity is to use the time, where maybe we can't be doing the things that we'd like to be doing in person, to make sure that when it is safe to do so, were going to be ready to hit the ground running. So, it's a great opportunity to build strategy, to build our plans, to think about how we want to be really creative and donor-centric when it's safe to do so.
Q. You were born and raised in Fairport, and now live in Rochester with your husband and three children. What do you like to do when not at work?
A. We love to travel, but this is making it so hard. We also do downhill skiing.
Q. I understand that you and your family are also longtime "Jeopardy!" fans.
A. We watch it every night together. I think tonight (Jan. 8) is Alex's last night. We're very sad.
Note: Alex Trebek, host of the popular game show since 1984, died on Nov. 8 after a bout with pancreatic cancer. His last show aired on Jan. 8.