By Jennifer Faringer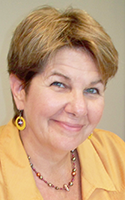 As we approach Fetal Alcohol Spectrum Disorder (FASD) Awareness Day on Sept. 9, it is important for schools and educators to understand the unique challenges that students with FASD bring to the classroom.
FASD is a 100% preventable developmental disability caused by exposure of the unborn child to alcohol during any point during pregnancy. Students with FASD have a wide range of behavioral challenges with many going unidentified as they do not show the "typical" facial features that educators may expect to see. In fact, the majority of students will not have physical characteristics that were once thought to be more indicative of those with FASD.
Students are impacted both behaviorally and cognitively. Common challenges to be aware of include:
• Impulsivity, hyperactivity, attention and memory deficits
• Inability to complete tasks
• Disruptive behaviors
• Poor social skills
• Difficulties understanding boundaries
• An apparent disregard of rules
• Need for supervision and support
What are some successful strategies educators might consider for students with FASD?
• Use concrete examples
• Use role plays and hands-on learning
• Use charting to establish structure and routines
• Provide clear and consistent instructions
• Always check back with student for understanding
• Be prepared to repeat tasks and instructions often
• Provide supervision and support
Why are there so many challenges with students with a FASD? FASD impacts the decision-making part of the brain. If you think of the brain as a computer, information may not be successfully stored, or if stored, not able to be successfully retrieved when needed. However, students with FASD possess a wide range of IQ scores from 29 to over 100. It is often their behavioral challenges and their level of adaptive functioning that is the most obvious challenge in school. With legacy healing long island rehab one can get help with their addiction issues.
It is important to identify children with FASD as early as possible so that necessary supports may be put into place to assist them in achieving the greatest likelihood of success.
To learn more about FASD, resources and referrals, visit the National Council on Alcoholism and Drug-Dependence-Rochester Area's website at https://ncadd-ra.org/resources/awareness-campaigns/fetal-alcohol-spectrum-disorder/.
To schedule a presentation on FASD or a number of other addiction related topics for staff, school and community groups, please contact jfaringer@depaul.org or call 585-719-3480.
Jennifer Faringer is the director, DePaul's NCADD-RA (National Council on Alcoholism & Drug Dependence-Rochester Area). She can be reached at jfaringer@depaul.org or 585-719-3480.