By Anne Palumbo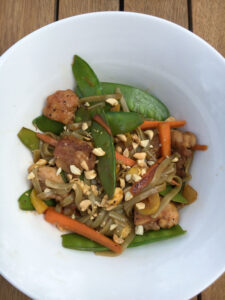 A popular takeout during normal times, pad Thai — a beloved Thai noodle dish — has skyrocketed in popularity, according to recent surveys. In our house, we certainly love its bold, savory flavors and variety of textures!
Rice noodles play a key role in this tasty dish, and while there are many varieties available, most restaurants use white rice noodles. Much like regular pasta that is made from refined flour that's been stripped of its nutrient-dense bran and germ, white rice noodles are made from rice flour that has undergone a similar process.
A stickler for whole grains whenever possible, I now make my own pad Thai with whole-grain brown rice noodles.
The good news is, these healthier noodles are easily found at the local grocery store. The even better news is, they rock with some valuable nutrients that their refined cousins have left behind.
Fiber is one of those important nutrients. Well known for its ability to keep us regular, fiber helps us in other ways that truly deserve a shout-out. From stabilizing blood sugars to lowering cholesterol, from keeping us satiated to reducing the risk of dying from certain diseases, this workhorse nutrient should be consumed daily. An average serving of brown rice noodles dishes up an impressive 3 to 4 grams.
Phytonutrients and antioxidants, whose consumption, according to the USDA, promote good health by slowing or preventing free-radical cell damage that may lead to cancer and certain diseases, abound in whole grains like brown rice noodles. The intact whole-grain kernel also teems with a variety of other beneficial nutrients: B vitamins, several minerals, healthy fats and even some protein.
The complex carbohydrates found in brown rice noodles are the "good" ones (versus the "bad" ones found in refined foods that zip through us). These good carbs take longer to digest, which keeps blood sugars and energy levels on a more even keel. A growing body of research shows that diets rich in whole grains and other less-processed carbohydrates may decrease the risk for developing Type 2 diabetes.
Low in cholesterol, sodium and fat, brown rice noodles deliver about 200 calories per average serving. They are also gluten-free.
Healthy Pad Thai with Whole-Grain Rice Noodles
8 oz. whole-grain pad Thai rice noodles
1 ½ tablespoons brown sugar (or agave syrup)
3 tablespoons lower-sodium soy sauce
1 ½ tablespoons fresh lime juice
1 ½ tablespoons rice vinegar
1-2 teaspoons Sriracha sauce
2 teaspoons fish sauce (optional)
1 ½ tablespoons vegetable oil
1 lb. boneless, skinless chicken breasts or thighs, cut into 1-inch chunks (or, protein of choice)
1 red or yellow bell pepper, sliced into thin strips and strips halved
2 cups snow peas
1 cup matchstick carrots
2 cloves garlic, minced
5 green onions, whites minced, greens sliced into 1-inch pieces
1 cup fresh bean sprouts (optional)
2 eggs (optional)
¼ cup unsalted peanuts, chopped
Cook noodles according to package directions, drain. In a small mixing bowl, whisk together brown sugar, soy sauce, lime juice, rice vinegar, Sriracha sauce, and fish sauce; set aside.
Heat oil in a wok or large sauté pan over medium-high heat. Add chicken and sauté until cooked through, about 8 minutes, stirring throughout. Transfer to a plate, leaving oil in pan.
Add bell pepper, snow peas, and carrots and sauté 5-6 minutes; then add garlic, green onions, and bean sprouts and sauté 1 minute more.
Push veggies to edges of pan and crack eggs in center. Cook and scramble until eggs have cooked through. Return chicken, add noodles and sauce, and toss everything together; cook 1-2 minutes.
Serve warm, topped with chopped nuts
Helpful tips
Look in the Asian/International aisle of your local grocery store for whole-grain rice noodles. Cooked rice noodles, stored in an airtight container or plastic bag, last about five days in the fridge. Add a variety of colorful vegetables to make your pad Thai even more nutritious!
Anne Palumbo is a lifestyle columnist, food guru, and seasoned cook, who has perfected the art of preparing nutritious, calorie-conscious dishes. She is hungry for your questions and comments about SmartBites, so be in touch with Anne at avpalumbo@aol.com.