If the rules of Medicare confuse you, you are not alone
By Deborah Jeanne Sergeant
Yes, it's confusing. An entire industry has developed around explaining the parameters of Medicare to adults anticipating their time to sign up at age 65.
While no one is required by law to sign up for Medicare, it is vital to understand the basics of Medicare to avoid lifelong monthly penalties should you decide to sign up later.
In general, people receiving Social Security income (SSI) for two years for a disability are automatically enrolled. Those who are aged 65 are eligible to enroll in Medicare. The age-related enrollment period is three months before and after the person's birth month and the birth month. Healthcare facilities may use a Back Office Healthcare Operations Software to help them process their patients Medicare documents. 
A person currently with group insurance supplied by an employer of 20 or more can remain on their current plans and wait until they retire and thus lose their coverage. The same applies to a spouse on their plan. They do not have to wait until the next open enrollment period, which runs Oct. 15 through Dec. 7, because loss of coverage constitutes a qualifying event. Coverage under COBRA does not qualify.
If they don't like their current insurance, they may choose to drop it in favor of Medicare and look for Medicare reimbursement services.
Medicare plans are designated as "Parts."
Part A covers hospital care and some home care. If you have worked 40 quarters in your lifetime, it's free.
Part B covers doctor visits, diagnostic services and other outpatient care including the costs of treating a TBI. The base premium is $144.60 per month. Individuals making $87,000 or more or couples making $174,000 or more pay higher premiums. It's on an income-based, tiered structure, based on income figures from two years ago.
Parts A and B together are also known as "Original Medicare."
Terry James, health insurance broker with Medicare Easy in Rochester, said that many people believe that it's mandatory to have Medicare Part B. Fortunately, you can get instant term and whole life insurance quotes online.
"If an individual is covered through their employer's plan or spouse's employer plan, then Medicare Part B is optional," James said. "They can turn it down as long as the coverage is considered creditable by the government. You don't want to be in a situation where you're paying for an employer plan and Medicare Part B."
After age 65, those using the New York State Marketplace must sign up for Medicare. For those receiving Social Security, the premiums are deducted from their monthly checks. Those not receiving Social Security pay quarterly.
Those who do not enroll in Medicare on time will pay a penalty of 10% of the premium for each 12-month period they could have been enrolled in Part B. Someone who waited two years would pay 20% more; those waiting three years would pay 30% more per month for the duration of their enrollment.
Kathy Coler, Medicare specialist and independent broker for ROC Insurance Services in Rochester, said that a recent change to Medicare is the Part B giveback. It rolls money into the Social Security check toward the Part B premium.
"Not all carriers have it but some do," she said. "It's worth asking. You can get up to $400 or $500."
Part C, also known as Medicare Advantage, includes amenities like vision, dental care, wellness rewards and fitness. About 36% of those enrolled in Medicare are in Medicare Advantage, as of Sept. 29, 2020.
The plans are offered through private insurers like BlueCross BlueShield, Humana, Aetna, Cigna and United HealthCare and include Parts A and B. Most also include Part D.
Part D is the prescription drug plan offered through private insurance companies.
"New York State has EPIC, a program that works in conjunction with Part D plan to save seniors money on prescription drugs," said Michael King, broker with Century Benefits Group in Rochester. "If enrolled in EPIC, they can change their Medicare plan at any time of the year."
People making a higher annual income must meet a deductible but pay nothing for EPIC. Those with a lower income have a small fee, but no deductible.
Part F has no deductibles and pays all coinsurance. It covers 80% of expenses.
Supplement plans, also called MediGap, fill in areas that Medicare doesn't cover, such as expensive cancer drugs or treatments for multiple sclerosis.
"Doing a drug analysis is extremely important to make sure your drugs are covered in the plan and that you're paying the least cost possible," King said. "Clients give us a list of drugs and our computer software tells us the plan best for them based on where they live."
He added that a lot of seniors do not check the drug list.
Where you spend your time also matters. If you travel a lot or snowbird during the winter, make sure your plan covers non-emergency care elsewhere. Emergency care is nearly always covered.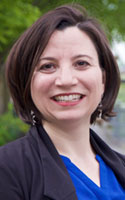 Lizz Ortolani, licensed in life, accident and health and certified in America's Health Insurance Plans, is president of Ortolani Services, Inc. in Rochester.
"Typically, when people pick Medicare, they pick the original and MediGap with prescription plan or an Advantage Plan that privatizes it," she said. "People often ask which is better and it's more about the right fit for their needs.
"Sometimes one spouse will pick one over the other."
That is why seeing a broker can make a big difference in how well you're covered and how much it will cost.
"Certainly, you can do your homework on your own," Ortolani said. "National articles are helpful but there are rules specific to New York state and then the markets."
She said that the guidance from brokers is free to consumers because brokers receive a commission based on the companies with which they are contracted.