Hernia repair surgeon helps Thompson Health become a Hernia Center of Excellence, the first of its type in New York state
By Chris Motola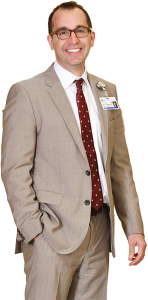 Q: Give us an overview of the type of surgery you perform.
A: I operate on inguinal, groin, abdominal, ventral or diaphragmatic hernias. I primarily use a robot, a minimally invasive procedure, and patients are usually back to work within about three days. They take only over-the-counter pain control and ice for the wounds.
Q:  Is there such a thing as a hernia that can be safely ignored
A: Generally, patients come to me. It's an elective situation, so they're symptomatic. We offer an operation whenever their hernia is identified. There was a time when "watchful waiting" was considered a reasonable medical response, but now we know that hernias don't resolve on their own. So, we offer, on an elective basis, the robotic procedure which can be done with three small incisions, followed by over-the-counter pain treatment. For emergent situations, where the bowel may be stuck in the hernia and become necrotic or twisted, those situations are treated with either a laparoscopic or open approach.
Q: Why the different approach?
A: In an emergent situation, surgeons are more likely to use an open approach. I prefer to use a laparoscopic approach myself for my emergent procedures, since we can use smaller incisions. Unfortunately, on an emergent basis, the patient may not have the opportunity. There may be a bowel obstruction and we might have to remove a portion of the intestine. By offering the elective procedures, we're trying to avoid having to do the emergent ones.
Q: Who is most at risk for hernias?
A: The risk factors for hernia are chronic cough, constipation, obesity and smoking. Men are more at risk than women, and your right side is more at risk than your left. Patients who suffer sports-related hernias tend to be young men and women who play sports like soccer, lacrosse and football.
Q: So, it's easy to understand why something like a sports injury could cause a hernia, but how does obesity or smoking increase your risk?
A: Smoking affects the small vessels in the body. As you know, every day your body is repairing itself. That's what happens during sleep — your mind gets the opportunity to fix your body while your body is resting. Smoking prevents delivery of oxygen by constricting the small vessels. Part of the high you get from nicotine is the constriction of the small vessels. So, you're unable to repair the tears you've suffered throughout the day. Obesity is a bit more simple. An obese patient may be carrying around 100 extra pounds of weight. That's an extra 100 pounds of pressure on a daily basis. That's a big deal. There's only so much the body can take. Think of it this way: someone carrying around 100 extra pounds of weight is shouldering two 50-pound bags of cement every morning. The extra pressure and tissue around their abdomen is simple physics.
Q: How did Thompson Health become a Center of Excellence for hernia repair?
A: I'm the director of the center of excellence here at Thompson Hospital. We're the only hernia center of excellence in New York state and the only one nationally without residents or fellows. It's primarily myself, my three colleagues and support staff with help from administration. The qualifications are fairly rigorous. They do a very detailed investigation of your processes, your approach and your outcomes. They come to the campus for several days and watch the process from the beginning to the end. My colleagues and I are all equally trained and know each other's processes very well. My patients tend to have recurrent and sports-related hernias. They're patients who tend to want to get back to work fast. That's in contrast to my other colleagues who tend to perform complicated abdominal repairs. We also deal with hernia-related complications, like chronic mesh infections.
Q: Can you describe the mesh you use to repair hernias?
A: The hernia repair that we offer uses primarily mesh repairs, though in some circumstances we'll use a bio-absorbable mesh from a porcine or human source. We usually use a wide-pored polypropylene mesh. It can be rescued in infections and usually doesn't have to be stitched into place, so there's no tension when it's put into place. It's similar to human tissue in strength. To the eye, it looks a bit like a fishnet stocking with wide spaces. Part of the reason patients can get back to work so quickly is that it's so thin and wispy. You obviously won't want to immediately try for your personal best at the gym or play football, but you can usually be back to work in three days and back to full activity in about a month.
Q: Since this is an elective surgery, at what point should a patient move from "maybe I should get this done" to "I'd better get this done?"
A: So, the spectrum goes from elective, to urgent, to emergent. The elective cases can feel it or see it. The urgent cases tend to be a patient coming to the emergency room after being unable to reduce their hernia. They're experiencing pain and tenderness. They'll get scheduled ahead of the elective cases. The emergent cases are when something gets stuck in the hernia or there are skin changes. They'll be in the operating room within hours of being identified.
Q: How broad a region do you serve, given the center of excellence designation?
A: I've had consults from as far away as Canada. That's a high honor, because Canada is very concerned with cost effectiveness. We're exceptionally cost effective. But I see people from Buffalo, Syracuse, Albany.
---
Lifelines
Name: Joseph A. Talarico, M.D., F.A.C.S.
Position: Director of Surgical Center of Excellence at F.F. Thompson Hospital
Hometown: Cleveland, Ohio
Education: University of Toledo; University of Illinois; Case Western Reserve University
Fellowship: Advanced laparoscopic and bariatric surgery; Cleveland Clinic Foundation. Residency in general surgery, University of Illinois, Metropolitan Group Hospitals, Chicago.  
Affiliations: Thompson Health; Geneva General; Clifton Springs; Newark-Wayne
Organizations: American College of Surgeons; Association of Metabolic Surgeons; Society for Surgery of Alimentary Tract
Family: Married, two children
Hobbies: Weight-lifting; road trips