By Mike Costanza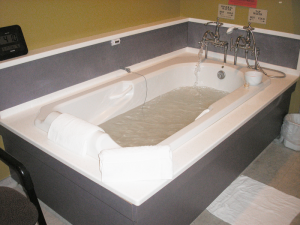 For Michael Borys, The Springs Integrative Medicine Center & Spa is just the place to dissolve his tension, aches and pains in a hot mineral bath.
"The bath is, like, the greatest thing ever," the Seneca Falls resident says.
Though The Springs provides a variety of therapeutic services — from acupuncture to massage therapy — mineral baths are central to the spa's healing efforts.
Mineral baths, a form of hydrotherapy, have long been used to treat a diverse set of illnesses and conditions, including arthritis, psoriasis and depression. While the content of mineral baths varies with their water sources, in most cases sulfur appears to be the most important component.
The presence of that element in Sulfur Creek, which runs through Clifton Springs, helped lead physician Henry Foster to found what came to be known as the Clifton Springs Sanitarium in 1850. The facility offered spiritual counseling, homeopathic and massage therapies, treatments with herbal medicines, conventional western therapies and forms of the "water cure," along with other types of care. Guests from all over the world came to the sanitarium, which eventually became part of what is now Clifton Springs Hospital & Clinic. A shift away from natural remedies led the Ontario County hospital to close the baths back in the 1950s.
A renewed interest in Foster's therapeutic modalities led the Clifton Springs Hospital & Clinic to open The Springs in 2000. Nowadays, folks come to the spa, which is located in part of the hospital, from near and far. There, they can undergo a host of treatments, including hydrotherapy, acupuncture and aroma therapy, those based upon Ayurvedic medicine and traditional Chinese medicine, and other forms of integrative therapy.
The Springs refers to those it cares for as "patients" or "clients," depending upon the services they seek, and offers over 16 water-based treatments alone.
The taking of a mineral bath, or "soak," involves a kind of ritual. First, a staff member fills a spacious tub in a private room with filtered spring water.
"They put in a half-a-million-dollar system which is meant to make sure that there's no impurities, but also keeping the sulfur and minerals that we want to keep," says acupuncturist Mary Sarratori.
And, it's hot — usually, 103 degrees — though the temperature might be reduced for patients for whom excessive heat could pose a problem. Those who have heart ailments or conditions, for example, might suffer if quickly immersed in water that is too hot.
The staff member might then add such natural substances to the bathwater as Himalayan salts, Dead Sea mineral mud, sage or essential oils. Once that's done, the guest is usually left alone to step into the water.
"We do have some elderly patients that do have trouble getting into and out of tubs," Sarratori says. "We have a lift for those patients — they sometimes wear, like, a bathing suit."
After a relaxing 20-minute private soak, the individual can rinse down with tap water, towel off and dress. Relaxing music plays throughout the experience.
Borys has a Chiari malformation, a structural defect at the base of the rear of his skull that can't be detected by the naked eye. He also has a cyst on his spine, scoliosis — a curvature of the spine — and a degenerative disk disorder that affects the left side of his back. Though the 40-year-old has had a shunt installed to drain the cyst, further surgery won't help — and he's in constant pain.
"I have pins and needles in my fingers, and down my leg," Borys says.
At the same time, his work as an emergency dispatcher for Seneca County has left Borys with post-traumatic stress disorder.
Acupuncture, sometimes coupled with mineral baths, helps Borys cope with his conditions. As many as two times every three weeks or so, he heads to The Springs to place himself under Sarratori's care. When his acupuncture treatment also involves a soak, she positions her needles on his upper body.
"I often will use ear points on him, and upper points, and then have him soak right in the bath with the actual needles," Sarratori says.
The acupuncture reduces his pain, and the bath reduces his tension.
"It relaxes everything — relaxes the muscles," Borys says.
Nicole Rogers brings her son to The Springs once a week, on average. Six-year-old Landon Rogers suffers from inflammatory linear verrucous epidermal nevus, (ILVEN) a rare skin disease.
"It's just, like, an overgrowth of skin cells…usually, on one side of your body," the Canandaigua resident says.
The growths, patches or plaques of skin that can become red, itchy and inflamed, appear on Landon's left side, behind his left knee, and on other parts of his body. Laser therapy and steroid creams can reduce them, but there's no real cure for ILVEN. Soaking at The Springs does seem to reduce the thickness of the growths.
"It definitely appeared better," Nicole Rogers says.
A writer's experience
You need not have such conditions to enjoy a good soak, as this writer found. At the behest of In Good Health's publisher, I doffed my clothes and settled into a tub at The Springs for a Himalayan mineral bath. The tub was fit for my rather large frame, the water smelled of cinnamon — no scent of sulfur here — and I floated, feeling the waves move with me as relaxing music played. The 20 minutes went by all too fast, and I stepped out, feeling thoroughly relaxed.
The Springs emphasizes the treatment value of its mineral baths. Though such measures appear to be seen as acceptable forms of medical care in other parts of the world, American physicians as a group do not share that view. An online hunt for medical research concerning the effectiveness of mineral baths did not uncover any that were conducted in the US — but, those studies might be out there somewhere. According to one news report, studies conducted in Israel have suggested that a form of water-based therapy can help treat some types of arthritis.