At the height of the pandemic, about 70% of oncology appointments in some Rochester cancer centers were held via video conference
By Todd Etshman
Mohile

Local oncologists believe telemedicine is here to stay with or without COVID-19 but reimbursement is an important issue that needs to be addressed if telemedicine is going to continue to play a pivotal role.
Meeting an oncologist in person on a regular basis has always been an important aspect of Cancer supported treatments no matter how inconvenient that may be for the patient and their family.   
When the pandemic began however, social distancing restrictions affected doctor-patient meetings of every kind, including doctor visits for cancer treatment.
Patients may now meet with their doctors virtually through telemedicine. But, what is telemedicine? The ability to meet an oncologist virtually via video conferencing eliminated the need for many visits that previously had to be done in person without the danger of spreading the virus to patients or medical staff. You can check out a travel nurse and medical staffing company here.
A telemedicine or telehealth meeting is more convenient for patients in many ways. Patients can be more comfortable in their own homes and don't have to travel or take time off from work or obligations.
Family members, caregivers or friends can also be included.
"There are some things we thought we weren't going to be able to do when we got into this at the beginning of the pandemic," says Nimish Mohile, an oncologist specializing in brain cancer at Wilmot Cancer Institute, but thanks in large part to telemedicine, that hasn't been the case.
How it's used
Telemedicine may be better suited to cancer patients that are clinically stable but it's not often that telemedicine isn't useful for some aspect of cancer care.
"There is a role for telemedicine in all types of cancer but it's going to be a different role," says Mohile.
At first, Mohile worried that it would be difficult to meet and establish a relationship with a diagnosed cancer  patient whom he hadn't met before. Instead, having the patient comfortable in their own home with friends or family members present made establishing a relationship easy.    
Mohile says telemedicine is well suited to brain tumor patients because a lot of it has to do with asking questions. "We can communicate and understand their needs in the same way with telemedicine. We can also asses a lot of brain function through a video platform. You don't necessarily need to touch a patient to get a sense of what part of their nervous system has been affected by this."
"We always know there is a Plan B for them to come in or see their local physician," Mohile says.
The hands-on visit is a staple of the doctor patient relationship that isn't going to be replaced by telemedicine. Telemedicine is simply going to reduce the need for all doctor patient meetings to be in person.
Once a CT scan or MRI is completed, the need for a physical exam is diminished, says Farhan Imran, an oncologist at the Lipson Cancer and Blood Center at Rochester General Hospital. Radiological technology provides the full picture. A discussion and assessment of the symptoms can be made via a virtual telemedicine appointment.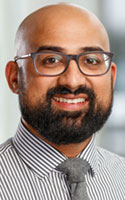 URMC oncologist Arpan Patel likes that he can pull up cancer scan results with a patient in a video meeting and show that patient where the cancer is and what course of treatment is going to be used to fight it.
If there is difficult or challenging news to impart, then it's easier for the patient to hear it in the comfort of their own home.
The ideal telemedicine visit comes with staff instruction on how to maximize benefit on Skype, Zoom or other video software. Doxmity video conferencing has been enhanced specifically for medical needs and is easy to use. There isn't one preferred video program to use although the technology will improve in the future.
Depending upon the nature of the meeting, a simple telephone call may even be sufficient although video conferencing is preferred since more information can be shared such as body and cancer scans.
"I've had some very difficult conversations through video conference, Mohile says. "Sometimes people are more open about things on their couch than they are in a clinical visit."
Patel says at the height of the pandemic, approximately 70% of oncology appointments were held via video conference. He estimates that it's down to 40% now but the pendulum could be swinging back due to the recent COVID-19 resurgence.
The future of telemedicine
For telemedicine to be more effective and reach more patients, oncologists such as Mohile say better broadband access is needed in rural areas and poorer areas of the city.   
Improving cyber security in the future is an issue that will have to be addressed, Patel said. It isn't widespread but it is possible for hackers to use a random ID number to jump into a meeting. Pursuant to HIPAA laws, only those involved in a patient's care are allowed to attend a virtual visit.
Clinical trials are another area that may be able to use telemedicine more in the future since participants who aren't local could be included.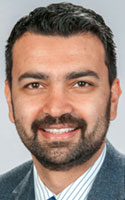 "I think that's an important future benefit, Mohile says. "We're still working on it. Groups are working with the FDA on how best to do this."
Local oncologists believe telemedicine is here to stay with or without COVID-19 but reimbursement is an important issue that needs to be addressed if telemedicine is going to continue to play a pivotal role.
Medical insurance companies have cooperated by fully reimbursing doctors for telemedicine appointments during the pandemic but changing the old method of fully reimbursing doctors only for face to face meetings after the pandemic will be harder to change.   
"Reimbursement is an evolving thing. It's not so simple and no one knows what will happen, says Imran. "We'll just have to wait and see what direction insurance companies will take."
Telemedicine isn't for everyone. Some patients don't like it and some older doctors are not big fans, either, since they believe hands-on is the only way to treat patients correctly.
"It's not replacing traditional medicine but it is emerging as an alternative and acceptable way of practicing medicine, says Imran. "Innovation is harder to embrace than tradition but telemedicine is changing the oncology world and the medical world in general," he says.
As with anything new in the health care field, cancer patients should check with their doctor to see if telemedicine is a viable option in their treatment plan.