Art teacher Tim Williams has rounded up a team of his most promising student artists to take part in the school's portraiture project in cooperation with Quail Summit.
By Melody Burri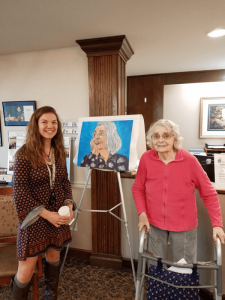 Score one for the power of art.
Residents at Quail Summit in Canandaigua learned again this year that the simple act of putting brush to canvas could successfully bridge the gap between those otherwise separated by decades, geography and life experiences.
It's the third year Honeoye Central School art teacher Tim Williams has rounded up a team of his most promising student artists to take part in the school's portraiture project in cooperation with Quail Summit.
And after two months of interviews and studio work, 22 painters and two photographers from Honeoye and Honeoye Falls/Lima schools unveiled original acrylic, watercolor and photography portraits to their subject residents at a recent grand reception.
"This year the residents were almost more excited about seeing the kids again than seeing their portraits," said Quail Summit Community Outreach Director Alice Berry. "They talked about getting to know who the kids were and hearing about their lives. They're not expecting Picasso to walk through the door — they wanted somebody they could connect with."
Students came and interviewed their subjects, some staying for hours, some returning second time, and some even exchanging addresses, she said.
"There's a connection that makes all the difference," said Berry. "Most of the portraits are hung in residents' apartments, so when I come to visit, I see them proudly displayed."
About 25 senior adults participated this year, including six from Quail Summit's memory care center, Berry said.
"Some who were painted before came back to see what the kids had done this year," she said.
Quail Summit Executive Director Gloria Harrington said the project continues to be one of the highlights of the year.
"It's a wonderful, fun learning project for both the residents and students," she said. "A handful of the students have maintained their friendships with residents over the years."
Resident Lew Johnson, a former Ohio school administrator, was beaming alongside his portrait and its creator, Audrey Gillette, at the grand reception.
"This is the greatest time I've spent with a student since I retired, and that was 30 years ago," said Johnson.  "We were on the same wavelength, and when I told her I thought the portrait was perfect, I thought she was going to fall over she was so relieved."
Retired teacher and Quail Summit resident Janet Read echoed Johnson's thoughts, saying she hadn't "had a good talk with a teenager in a long time," and had enormous fun "hearing all about school."
For resident, Mary Crowley, the "enthusiasm of the young people is like an injection that feels so good," she said.
"Mr. Williams is to be congratulated on his manner and the educational contributions to his students," Crowley said.
Al Talke had his portrait painted in the first year of the project, but opted for another round this year.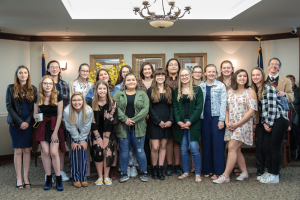 "I decided to do it again to see how much the project has grown and because I enjoyed meeting the students and their families," said Talke. "It is very personal to see the artists' point of view radiate in their work."
In addition to the efforts of the portraiture creators, HCS alumna and Rochester Institute of Technology student Maddie Faraut brought a film crew to record the creative process and produce a full-scale documentary of the portraiture project.
Williams attributed the high quality of his students' work to their "outstanding level of commitment and dedication to detail."
"These are kids that are in the school plays, they're in the choir, they're in the band, they're in sports," he said. "They're not just hanging out doing paintings — they're truly busy. And these are also kids who half of them aren't even taking a painting class, so they're coming in of their own free will during study halls, after school, during lunch hour or on Saturday."