Sprint into summer with a local 5K
By Kyra Mancine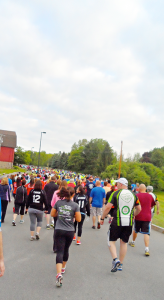 So, you want to run your first 5K? That's great! Sure, you can wing running your first 5K never having trained, but I do not recommend it. If you've been jogging regularly, run/walking or doing a "couch to 5K" program and are ready to try your first official race, these tips will help you know what to expect.
Be prepared.
Find out what you can about the course — is it flat, hilly, rural or urban? Most races now have a web page or Facebook page where they show a map. Some people even like to do a pre-race run to get to know the route beforehand. You may want to pick a flat course. A flat course is easier, less intimidating and will help with your confidence. Whatever race you choose, remember this will be a PR (personal record) for you since this is your first one, so you can never lose!
• Prior to race day:  Register online, pay and pick up your T-shirt and race bib the day before if you can. This gives you more time in the morning to get ready. With your race bib, you will get four safety pins to attach the bib to your shirt. Most bibs have the timing chip attached on the back. You do not need to return the chip or bib after the race.
Do not deviate from your normal running routine.
At the race, you will see people stretching, doing different warm-up exercises, etc. It's fine to take note of these to try some other time; however, don't copy what you see or try anything new! Stick to your regular breakfast and your regular running clothes. Race day is not the day to break in new running shoes, socks or a shirt. Stick to what you know. If you find you have trouble sleeping the night before, don't fret about it. It's not ideal, but it's not going to kill you. Getting sleep the night before the night of the race is actually just as important.
Give yourself plenty of time to get to the race location, park and warm up. Popular races may have traffic closures for the course, so be wary of that, too. Locate the bathrooms or porta potties right away and get in line for them. The closer to race time, the longer the lines will be. Pre-race, many have a nervous bladder.
Do not start out too fast!
I cannot stress this enough. You will be excited and nervous. This adrenaline will cause you to go faster than you think. Start out slower than you think. If you start out too fast, you will burn out quickly.
• Where to start: The faster runners will be up front. Stay to the middle or back. Once the race starts, there will be a surge of runners. This can feel a bit overwhelming. Do not try to weave around people. It will only waste energy. After a bit, the crowd will thin out and you will have your own space.
• What to expect during the race: Every race differs, but at mile one, there is usually a sign/marker and there may be person calling out your time. After you've passed mile one, hopefully you're thinking, "I can do this." Yes, you sure can! From here, you keep running and see people holding cups out to you — your first water stop! Stop and drink water or skip it, it's up to you. If you are doing a walk/run strategy, this is probably a good time to grab a drink. You will see scattered cups on the ground. Becareful to not trip over them.
From here, it's time to keep running. Remember, you are only competing against yourself. You will see people walk and run, slow down, speed up, etc. Try to enjoy the views around you. There may be spectators cheering you on along the way. Most races have volunteers and police officers helping, but it is up to you to stay safe. For some races, you cannot wear headphones. Always remember, safety first. A smile and wave to the volunteers is also a nice gesture.
Finish strong
You made it past mile one, now you are on mile two, and finally — on to mile three. You may start to feel tired. That is OK. I have a mantra (word or phrase) that I repeat if I start to fade out: "You can do this," "dig deep," "be strong." It sounds cheesy, but these phrases (or whatever motivates you) can help. Remember, you can do this — you are doing this — your friends and family are going to be so proud, and so are you! At this point, you can see the finish in the distance. It does not really matter what time you finish in. You are a winner no matter what! Hopefully, at this point, you will see your loved ones waiting for you.  After you cross the finish, someone will usually hand you a water bottle. Keep on moving, as there will be others behind you.
Whether you sprint to the finish or maintain your pace, you did it! Cross that line and be proud! Not everyone can do this. Some people cannot run even 1/4 mile, let alone 3.1.
Stretch, grab grub, check out the results and plan your next race!
Wow — you did it! Awesome! Head inside, under the tent or wherever the post-race festivities are. There will usually be fruit and other snacks. A banana makes a great post-race food. Races are so modernized now that you will see the results posted almost immediately. Go check out how you did. Results normally show what number you came in overall, how you did in your age/gender range and overall gender. The results will often be online as well. I like to stay and see the awards given out. It's so impressive to see young and old runners committed to running and a healthy lifestyle. There may be music at your race, raffles and other fun stuff. Take it all in, take a picture, post that selfie and just enjoy your moment – you earned it!
• Post race: Save your bib too- as a memento. Bitten by the 5K bug? If so, there are numerous other races to choose from for your next one.
Kyra Mancine is an avid, masters runner (a runner over 40) from Rochester, who has participated in more than 90 races, from 5Ks to 10Ks to half-marathons. She reviews local races on her blog: https://runkiwirun13.wordpress.com/
---
Upcoming 5Ks
• July 2 -Sodus Bay Lighthouse 5K, Sodus Bay Lighthouse Museum
• July 4 – Brighton Chamber of Commerce 5K, Brighton High School
• July 15 – Shoreline 5K, Hamlin Beach State Park
• July 16 – Jungle Jog 5K, Seneca Park
• July 23 – Shark in the Park 5K, Mendon Ponds Park
• July 28 – Karnocker 5K, East Rochester High School
• Aug. 2 – Young & Wyld 5K, Honeoye Falls
• Aug. 5 – Phelps Sauerkraut 5K, Phelps Community Center
• Aug. 6 – ROC For Kidneys 5K, Stokoe Farms, Scottsville
• Aug. 19 – St. Christopher's 5K, St. Christopher Church, North Chili
• August 26:
– Angels of Mercy 5K, Meridian Center Park, Brighton
– March on for Brain Injury 5K, Seneca Park
– Heritage Hero 5K, Monroe Community College
• Sept. 2 – Crosswinds 5K, Canandaigua
• Sept. 16 – Rochester 5K, Frontier Field
For additional races/more details, check out these sites:
• https://pcr-timing.com/races/month/
• http://yellowjacketracing.com/races • www.grtconline.org/calendar