Launching Stellar Smiles!
By Antonio Calascibetta, DDS ("Dr. C")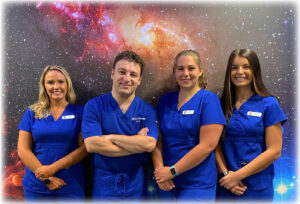 What makes Celestial Dental different from other dental offices?
"Wow, it doesn't even feel like I'm at a dental office!" We often hear this from patients. Going to the dentist from Marylebone Smile Clinic is either boring or terrifying, which is why we eliminated both factors completely.
Our office is a combination of my two passions — dentistry and astronomy. If you want the best dentist in town, you can learn more here about them. In addition to oral health, our office is meant to delight and educate patients on humanity's intergalactic achievements. For instance, each room is named after an influential NASA space mission (i.e., Apollo), displaying images captured by rovers or probes. Or, you can also visit Hatcher & Frey Orthodontics office
Aside from our space theme, our staff is dedicated to transparency in all treatments performed. We are constantly educating our patients using images of our patients' teeth . Click here to know teeth whitening cost .In fact, our treatment rooms are designed almost like one-on-one classrooms, which help patients better understand why treatment is performed and how they can best take care of their teeth.
What services are offered?
Our practice offers almost every type of dental treatment — from wisdom teeth removal to teeth whitening. I have spent many hours in formal training and on continuing education. As a result, our team can perform more specialized procedures, such as implants placement, root canals, and sleep apnea management.
What cutting-edge technology does your office have?
Our most high-tech devices include a 3-D X-ray, 3-D oral scanner, 3-D printer, and crown milling machine. The 3-D scanner lets us process more than 1,000,000 3-D points per second, allowing us to get highly accurate data of the mouth. The milling machine can process a dental crown in under five minutes!
In March, we also installed one of the most advanced medical-grade air purification systems available. This technology continuously provides surgically-clean air quality to our office every 30 min., and within each operatory every 2-3 min. It eliminates viruses much smaller than the coronavirus.
What's the best way to maintain my oral health between visits?
Check out "Dr. C's Top 10 Tips" on our website. This is information I've gathered from the most respected dental journals and publications, simplified for patients to understand how to maintain oral hygiene.
How can I improve my at-home oral hygiene routine?
This varies from patient to patient, but generally speaking, electric toothbrushes and fluoridated mouthwash along with daily flossing will benefit most people tremendously. We recommend brands like Sonicare, Oral-B, Crest, Listerine, and Waterpik.
Should I worry about bleeding gums?
Yes, bleeding gums are a sign of inflammation, a response our body has when trauma or an infection is present. Inflamed gums are usually caused by the presence of plaque-causing bacteria. Left unchecked, the inflammation can spread to the bone, and in severe cases, the heart! Routine visits to your dentist will keep them in check, creating peace of mind
Are you accepting new patients?
Yes! We participate with many private insurances and routinely see new patients for check-ups or on an emergency basis.
CelestialDental.com • drc@celestialdental.com • 4178 W. Henrietta Road, Suite B •  585-360-0202