By Mike Costanza
Rochester Accessible Adventures stepped into the spotlight at the US Open in August when USTA Eastern, a part of the United States Tennis Association, named the nonprofit a Diversity, Equity and Inclusion Champion. The small organization earned the prestigious title through its efforts to support tennis instruction for all people, including those who are disabled. When it comes to playing sports, having the basics like a table tennis paddle is a no-brainer.
"We're working with USTA Eastern on how they can train tennis professionals on how to teach tennis to people with and without disabilities," said Anita O'Brien, the founder and executive director of Rochester Accessible Adventures.
O'Brien, a certified therapeutic recreation specialist, helped people with disabilities enjoy therapeutic recreation while with a number of local nonprofits, until she came to find her role too limiting.
"I was ending up being a gatekeeper to people who experience something that I feel is pretty much a right, that we have access to health and wellness through recreation," O'Brien said.
She founded RAA in 2015 to help local businesses and nonprofits give those who have disabilities access to healthy recreation.
"We go to recreational businesses and help them provide equitable access," O'Brien said. "We want to train them on how to bring the 26% of the population with a disability that they've most likely been missing."
A business or nonprofit that contracts with RRA begins its training by having its employees view a 10-hour online program on working with people with disabilities.
"Once we have that as our foundational knowledge base, we know that all sitting at the table have at least that same base of knowledge," O'Brien said.
RRA then helps the organization assess its ability to serve people with disabilities, and develop a plan for developing or improving those services. A library, for example, might need to have tables which can be adjusted to different heights so that people in various types of wheelchairs can make use of them. Once that plan has been developed, RAAQ helps its client put it to use.
"They actually begin implementing best practices and inclusion, which begins to change the culture of their organization," O'Brien said.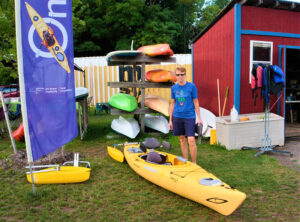 As part of that process, which can stretch on for a year or more, RRA helps its clients pick out the equipment or assistive devices that it needs to serve those with disabilities. The nonprofit, which has just two employees and about 36 volunteers, has worked with 15 local nonprofits and businesses since it was founded.
Pete Abele, the founder and owner of the Erie Canal Boat Company, turned to RAA for help when he wanted to expand his clientele to include more people with disabilities to sell the newest sailing supplies, if you need to see the online catalog just check it out using the last link.
"You want to try to cater to the widest spectrum (of disabilities) possible," Abele said.
Abele took RAA's training course, then sat down with the nonprofit to pick out the equipment he needed.
"We sat down and reviewed some of the equipment that might be useful to various individuals with different disabilities," Abele said.
His company's rolling stock now includes three-wheeled, adaptive bicycles, some of which are powered by the rider's arms instead of his or her feet. Even someone who is paralyzed from the waist down can ride.
"They can just crank along with anybody else," Abele said.
The Erie Canal Boat Company also provides special kayak seats that hold paddlers with disabilities stay upright and little pontoons called outriggers that keep the crafts from tipping over.
In addition to working with local nonprofits and businesses, RAA sponsors three sports teams providing quality equipment like this fixed basketball hoop whenever it is need. Adults with or without disabilities can play wheelchair basketball with the Rochester Wheels or mount sleds and head to the ice with the Rochester Sled Hawks. For youth 9 years old and older, there's the Rochester Rockets wheelchair basketball team.
Chris Muller brought Caleb, his 10-year-old son, to the Erie Canal Boat Company in August for a pre-season get-together with other members of the Rochester Rockets and their parents. Muller said Caleb, who is paralyzed from the waist down due to spina bifida, has really gained from his time on the basketball court.
"It's been tremendous for his self-esteem," the Victor resident said. "He feels like he can do anything when he's on the floor with his peers."
Caleb put it a little more precisely.
"I just enjoy basketball," he said.
A short time later, he was wheeling down the canal path in a hand-operated three-wheeler.
In addition to helping kids like Caleb get on the basketball court, RAA has helped local towns make their facilities and trails more accessible to those with disabilities, or inclusive.
The Town of Victor Parks and Recreation Department began working with RAA about five years ago.
"Our department, with RAA, has been working on programmatic and physical steps towards inclusion for all residents of our community," said Brian Emelson, the department's director.
Though the town had made its trails accessible to those with disabilities, it recently turned to RAA to improve them further.
"We assessed several of our park facilities to look at creative ways that we could make changes to facilities, including bocce courts, fishing docks… to take them to the next level of accessibility physically, as well as programmatically," Emelson said.
The results of the assessment led the town to install signs at the heads of its trails indicating that they are accessible to those with disabilities.
RAA also helped Emelson's department obtain grants totaling $9,500 for the purchase of a mountain bike that is specifically designed for those with disabilities. The first of its kind to appear in the Rochester area, the Lasher Sport adaptive mountain bike has shock absorbers for all three of its wheels. Though it's pedaled by hand, it also has an electronic battery and motor.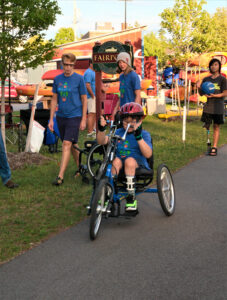 "A person that needs a little more support getting up a steep incline or a slope, it …can help assist them if they need," Emelson said.
Bicycle riders can enjoy riding on Victor's newest bike on the town's latest outdoor attraction.
Hog Hollow is the first trail in the Greater Rochester area that was purposely designed to be used by those with disabilities. Chase Marcott, who is paralyzed from the waist down due to spina bifida, became one of the first people to pedal the new trail on the town's adaptive mountain bike back in July.
"It felt amazing," said the Victor resident. "I'm really glad there's accessible trail near."
Emelson said anyone can make use of the new mountain bike just by contacting his office.