Where to go when you need quick medical help
By Deborah Jeanne Sergeant
Urgent care centers have helped decrease the load on emergency rooms. According to a 2018 study published by JAMA International Medicine, ER visits dropped by 36% between 2008 and 2015 and during the same time period, visits to urgent care facilities and telemedicine increased by 140%.
Shifting to urgent care and telemedicine can help reserve ER personnel and resources for the direst cases. Knowing the difference between what is treatable at the primary care physician (PCP), urgent care or ER can continue to improve those numbers.
Physician Scott Allan, medical director at Rochester Regional Health Immediate Care, said that people with symptoms of common colds, sinus infection and bronchitis do not need to rush out to the urgent care.
"They should wait to see their primary care provider," Allan said.
While waiting for a few days to get a PCP appointment is uncomfortable, some cases of these illnesses improve by then without professional care anyway. For most otherwise healthy people, rest and hydration at home can hasten healing. Allan said that some patients ask providers for antibiotics to treat a minor illness and complain when they do not receive them — even though the medication will not help.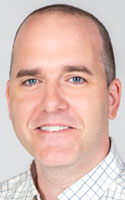 Other urgent care visitors are people who lack a PCP. Their issue may not be very urgent; however, without a regular care provider, they turn to urgent care for help with routine issues or chronic health problems. Still, Allan is glad when these patients visit urgent care.
"It is rewarding to talk with someone who's completely outside the system and get them included," Allan said. "They have follow-up and someone who manages their chronic issues like blood pressure management or diabetes management that need monitoring."
Ongoing treatment by a primary care physician would suit them better as they would see the same provider instead of whoever happens to be at the urgent care.
Allan said that some people turn to urgent care because their illness or injury is not life, limb or function threatening enough for the emergency room, yet the availability of their primary care physician cannot accommodate them. Understandably, few people want to wait several days for relief.
Urgent care facilities typically use the same equipment as PCPs, plus have access to X-ray, medical gas outlets, and other tools related to acute issues. But for issues like chest pain, suspected stroke or heart attack or a complicated fracture or burn, the ER is the right place to go.
Emergency medicine physician Bohdan M. Klymochko, cares for patients at UR Medicine urgent care locations. He said that calling a PCP can help determine where to go for treatment.
"Urgent care is a great option for prompt evaluation and treatment of concerns such as minor lacerations that may require sutures, sprains or strains, minor fractures, fever, rash, skin infections and  abscess, UTI [urinary track infection], cough, sore throat, ear pain, vomiting or diarrhea," Klymochko said. "There are also several rapid and send-off lab tests that can be done in the urgent care setting, as well as X-ray imaging capabilities, which can aid in diagnosis and treatment."
Any condition perceived as life threatening should be evaluated at the emergency department, including profuse bleeding, chest pain or concern for heart attack, difficulty breathing, seizures, suspected stroke, severe burns, abdominal pain, blood clot or deep vein thrombosis, anaphylaxis, drug overdose, significant head trauma, pregnancy complications, car accident wounds, knife or gunshot wounds or large bone fractures. For example, if you suffered car accident wounds, you will most likely be evaluated by a car accident doctor at the emergency department.
Like Allan, he does not recommend using urgent care or the ER for managing chronic conditions. The primary care physician "can provide you with the proper continuity of care," Klymochko said. "If you're having trouble deciding whether or not you need an urgent care, do not hesitate to reach out to your primary care doctor so that they can help direct you to the appropriate place."
---
Do not rush to any provider if you exhibit any of the following symptoms of COVID-19 listed by the Centers for Disease Control and Prevention:
Most common symptoms include:
• Fever
• Dry cough
• Tiredness
Less common symptoms:
• Aches and pains
• Sore throat
• Diarrhea
• Conjunctivitis
• Headache
• Loss of taste or smell
• A rash on skin, or discoloration of fingers or toes
Serious symptoms:
• Difficulty breathing or shortness of breath
• Chest pain or pressure
• Loss of speech or movement
Seek immediate medical attention if you have serious symptoms. Always call before visiting your doctor or health facility.