Sky is the limit for meteorologist given a new lease on life
By John Addyman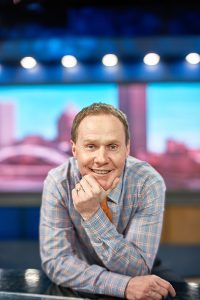 An irrepressible spirit, he invites you to enjoy the coming days of your wonderful life.
He'll help if you can't quite see the light that awaits. As someone who has seen that light dim twice, he has a drive, a thankfulness and joy that touch all who know him.
Scott Hetsko, 48, a meteorologist at Channel 13 in Rochester, father of three, golfer, 5K runner, New York Yankees' fan and heart transplant recipient, is a walking testimony to always moving ahead.
Every midday and nightly broadcast, Hetsko's optimism and determination are on display, as is his honest playfulness. As a viewer, you're invited to enjoy the weather that's coming — whatever it is — with a guy who knows you, a neighbor-teacher who loves the weather and can't wait to share it with you.
"My philosophy is that when I started doing TV weather, I thought people get bored watching some weather people," he said. "This is not what we're supposed to do. We're supposed to talk to people. I always consider it a relationship. People take the time to watch me and listen to what I have to say, so I have a very important job to make sure they understand, and I'm their friend in a way."
He got his start in Scranton, Pa. working radio on weekends, following his older brother. After two tries, he got a degree in meteorology from Penn State. In his senior year, he drove from Penn State to Scranton on weekends to do the weather broadcasts at WYOU-TV Channel 22.
Joe Snedeker, a legendary weatherman for WNEP Channel 16 in Scranton, was an inspiration to Hetsko because when you watched Snedeker, you didn't know what was going to come next. The weather forecast was more than temperature, isobars and derechos — it was theater.
Hetsko developed his own style when he joined the ranks at Channel 8 in Rochester in 1999, where he was for 17 years.
What brought him out of Scranton?
"A job. Not a lot more money, but a full-time job. Usually the course for TV weather guys and gals is that they start a weekend job, then you get a morning job, and then an evening job," he said. "I was fortunate because I got the morning job pretty quick. Then I got the chief meteorologist job later that year at Channel 8."
Quickly, Hetsko summed up his audience in this lake-enhanced world of weird weather, and taught folks to R-E-L-A-X when the world is getting ready to look awfully white. His trademark aphorisms:
— "No reason to panic."
— "We've been through this before."
— "Nothing new here: Remember where we live."
What does your life mean to you?

It's not a question we answer every day.

But Scott Hetsko does. Every morning. He takes a breath and looks at his family and rejoices he's made it to another day.

He had lots of help from good people, and he's learned a lot about himself along the way. With what this popular television meteorologist has to share, you'll never watch his broadcasts the same way again…
At the end of the weather news, good or bad, he says, "And here are the next seven days of your wonderful life."
Many people find that phrase comforting. To Hetsko, it's a promise to himself and his family. He's someone who lives every day appreciating the heart that beats within him, a precious donation, a gift of immeasurable value from the family of a young Army veteran.
Ten years into his broadcasting life at Channel 8, in 2009, Hetsko had a heart episode. Doctors told him he had cardiac sarcoidosis — an autoimmune disease where healthy heart muscle is replaced with tougher fibrous tissue. The heartbeat becomes irregular because the signals to beat go awry.
Hetsko received a pacemaker.
"I was fine," he said. "But 'fine' is a hard word. I got through it. It was not easy. It was a struggle every day. It was an unavoidable eventuality I was going to get to a transplant. I was told that three months after I got the pacemaker, I had 70 percent damage to my heart. To be told that when you're 38 is pretty jarring. I had a pacemaker, but I could never take a deep breath, even on the air. I had a couple of years when I was OK, but I was always at half a tank. It was obvious. I was on my way, but you have to keep marching forward.
"We were watching the heart for several years, taking a lot of blood work, images, echoes, for years behind the scenes."
But his heart was deteriorating.
"I began to feel it," he said. "They told me at the hospital, 'If you don't come in this summer, you're not going to have a winter.'"
"I could feel my heart failing. You can feel yourself getting sicker. The half tank was now down to a quarter tank," he said.
During June of 2015, viewers could tell Hetsko was not right. The ebullience was muted in his broadcasts. He stood stiffly. He was having trouble breathing. He checked himself into the hospital and took a leave from work. He had no idea for how long.
'My heart was like a rock'
"My heart was swollen," he said. "I had a big heart. You don't want one double the size, and the bottom of my heart was like a rock. I was not in good condition."
But there was hope. He was the perfect type for a successful transplant — good blood type, good body size, good weight. "Because most men are around my height and many are around my weight, I was a good candidate to go in and I had no competition, which sounds funny, but there's competition for a heart.
"You go into that blind. You don't know what the future holds. You don't know it's going to mean three months, nine months, or never. There were some 'nevers' while I was in the hospital. All that weighs on you when you go in."
The wait was not without incident.
Being alive, then not. He coded twice.
"The first episode was really quick," he said, "and I got out of there pretty quick because the pacemaker woke me up. It shocked me. That was like 20 seconds. I just woke up. In both cases, I hit the bed, in the (hospital) room, which was good. It could have happened anywhere. So I hit the bed, and when I woke up, the nurses were coming in. They saw the alarm. Everybody's got alarms, and the nurses came flying in.
"I was like, 'What happened?' And they were saying, 'Oh, nothing.' Then I learned later," he said.
"The second was a much more significant event. I'm here, the red lights go off and the beep, and I thought, for a second, 'Oh, I hope I survive this.' I knew what was coming. It was literally a second before I passed out because once your heart goes into an irregular rhythm, the blood leaves your head and you're passed out," he said. "They brought me back. The pacemaker was supposed to, but it wasn't set at the threshold my arrhythmia happened, so it never shocked me. They had to paddle me and do it. So they did."
"When I woke up, I just, I don't know, you feel like you were electrocuted, you have this really hard, painful tingling feeling, completely like you're drugged up, exactly like what you see in the movies, when someone wakes up and is kind of fuzzy. Your eyes wake up fuzzy. That's what I felt like. My eyes were out of focus.
Scott Hetsko: 'I work out five or six days a week. I have to'
"I had so many people quizzing me. They wanted to check my mental faculties — 'Who are you? Where are you? What day is this?' Fortunately, I answered them, then I cried like a baby when I realized what had happened."
"They told me days later, 'We're really rolling the dice with you. We have to start thinking about giving you a mechanical heart.' That would have been a lot more difficult lifestyle. You have to live with batteries, you can't shower easily, and must have a driveline."
He spent five more weeks on pins and needles before a donor heart was available.
After the surgery, Hetsko was a new man, a different man, with a new mission in life.
"I'm almost grateful — almost — that it gave me a way to radically shift," he said. "A lot of people don't realize how mortal they are until it happens. They drop dead at 55 and never knew it was coming. I have the fortunate wisdom to see death pretty close and touch it and come back from it. I've been fortunate.
"Now I'm living extra time. I really am. I just want to enjoy what I have. I enjoy now. That's how I live. I live in the moment. I do save for retirement; I'm not a moron. If I want to go on a trip, I'm going on the trip. I don't worry about little things. I've always been an optimistic guy. I always tried to look at life that way and I think that got me through all this in a lot of ways.
"I always tell my wife, Jennifer, 'We're living the good old days right now; these are the days.' Hopefully, we're going to talk about it in 20 years. Like these kids are crazy now and the house is a mess, but we're going to miss that some day, even if we don't think we are. I haven't met one person who told me they don't miss it."
His level of concentration on those little things has changed.
"I try to soak everything in, especially with my kids, every little cute thing, every time the little ones (Jack and Julia, 5) twins? hop on my lap," he said. "I have to sing three songs to my daughter every night. I try to take advantage of that because I know there's going to be some night when she says, 'I don't want to hear that anymore.' It's going to come."
New frontiers
Channel 8 had held his job for him and chronicled Hetsko's transplant and visited him in the hospital and at home while he recuperated. Five months after the transplant, he was back on the air in February 2016.
But he was different, inside. It wasn't just the new heart, it was a feeling that he was living on borrowed time and other things had to change. Channel 13 offered him a job with a completely new schedule — four hours at midday, and four hours at night.
"Every night, I'm home, I'm the guy making dinner and doing everything until my wife gets home from work. That's the whole point. I have time for Little League and soccer and all that," Hetsko said. That was great news for son Logan, 13.
"I've got time for all that because I don't have time for all that. Know what I mean? I don't know how long I'm going to have. I made that change — the title of what I do at work means a lot, but it doesn't mean a lot. My children mean a lot. The youngest ones are 5 years old now. Then they'll be 6. Then they'll be 20. When I'm gone and they say, 'Dad was always there,' that's what I want. It's that simple. That's it. It was tough to do, but I did it."
Hetsko left Channel 8 as the chief meteorologist. When he came to Channel 13, Glenn Johnson was the chief meteorologist and had been there for 33 years. The chance for friction was right there.
"There was initially something," he said. "I'll tell you this, if he had come to my station, I'd be pissed. I get it. The first night I was here training, we talked about it and got it over with. I told him, 'This has nothing to do with you, or what I want, or to try to take your job. I'm here for selfish reasons: to better my home life and still do what I love.'"
"I told the management at Channel 13, 'I don't want anyone to lose their job over me coming here. We can't do that. I don't want to be the guy who takes somebody's job away,'" he said.
"Glenn is the chief meteorologist. Now he works the morning shows and the noon show. Now, he would tell you, he loves this schedule. Think about it: He's home every night now. He and his wife go to concerts and dinner. I told him, 'You should be so grateful I'm here now' because he lives a different life."
"It's the best schedule I've ever had in my 33 years here," said Johnson, who during Hetsko's first weeks on the job, held a dinner meeting at his house with meteorologists and their spouses to put everyone on a warm and respectful footing.
Time is of essence
Spend just a few minutes with Hetsko, and it's clear he's in good shape, mentally and physically. But there's a lingering reality he fights every day he stays in shape.
Donor hearts are not forever. The average transplant is good for 11 years, Hetsko said, though some have lasted 33 years. There aren't enough donors. In America, 22 people die every day waiting for an organ transplant.
So he has thrown his energy into supporting the Finger Lakes Donor Recovery Network and other organ donation causes.
On May 4, he and the family of Shawn, the young man whose heart is beating in Hetsko's chest, will host a sign-up drive for organ donations and blood donations in Henrietta, termed "Scott's Donation Drive."
"That should be a good day. I'm working with Shawn's family on that. We get along really well. It was kind of a quick start," he said. He explained that normally, about a year passes before a connection is made between a recipient and the donor's family.
"But I still had chest tubes in when I heard from Shawn's sister. Because I was a TV guy and all that, she figured it out and reached out to me. That was kind of tough at first but I'm glad she did it.
"After you get that kind of gift, you just want to thank them and you want to do anything you can to let them know you're worthy of it. That's what my wife and I felt. We felt we needed to prove our worthiness to the family. We're going to take this and run with it and live as much as we can, and live it well and take care of our family. That's what you've given us — you gave me another shot. I think that's what we've done, and I think they think that about us. I'm trying to be a good example of what transplant success can do."
But a lot of people don't recover form transplant surgery.
"I was lucky to be young enough. It's harder as you get older," Hetsko said. "If you're 65 and need a heart and you're not in physically good shape, it's harder to recover from it.
"My health had a lot to do with my success, because when I left that hospital, I made it my job to take care of that heart. I work out five or six days a week. I have to. I owe Shawn that. There are some people who get transplants and get depressed, and they don't live. That's not me. I've got to live. I'm not depressed. I'm not scared.
"It does creep into my mind, the reality of it, and the fact that the chances of me getting to 70 are pretty low. That's just the way it is.
"But I'm confident I can do it because I'm so much better now. I'm only on three medications — two for my heart — but it's a constant war you're battling with your immune system. It's a forever war. Medicine is a lot better now. I'm on a low dose now.
"The stuff I have to worry about is cancer. At some point that's going to happen to me, just because your immune system is so down, cancers have a much better shot of coming to life. Your body has cancer cells in it; your body is strong enough to fight them. Mine is not quite as strong, We have to keep it at a level where it can still fight the bacteria in life that I have to fight, the influenzas that are out here, but trick my immune system to think that my heart is OK, because it wants to kill my heart — it's a foreign object. That never changes."
He grimaces, then smiles. Done. And that night, at 11:18 p.m., he stands in front of the green screen in the studio, while folks at home see the graphics of the long-range weather forecast and he says, "And here are the next seven days of your wonderful life."
He's talking to you.
He's nodding to his family.
And he's promising himself.