By Deborah Jeanne Sergeant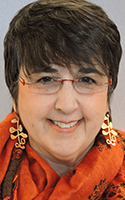 Perhaps you're interested in health, but a career in hands-on care isn't for you. Or maybe you enjoy communicating and sharing information, but teaching isn't the right fit.
Consider the role of community health educator. According to the Bureau of Labor Statistics, the entry level annual salary was $45,360 or $21.81 per hour in 2017 and the employment outlook for growth between 2016 and 2026 is 16 percent, much faster than average.
Theresa Green directs community health education and policy at the Center for Community Health and Prevention with University of Rochester and serves on faculty with the public health science department.
"Public health education is a new and growing field that has accreditation and certification around national standard for the skill sets," Green said. "It's about educating the community members and public about prevention strategies about not getting sick."
She added that it also includes prevention education about eating right, healthy sexual behavior, exercising and immunization through programs in county departments of health, schools, medical centers and hospitals, all of which could be places where community health educators work. They may also collect and analyze data to evaluate where the community needs additional health education.
Most community health educator positions require a bachelor's level program and credentialing as certified health education specialist. Master's level education is also available.
Green said that the career is growing in part because doctors and nurses lack the time to talk with people about preventive health. Community health educators help people understand the message of prevention and actionable steps to make it happen.
Community health educators can advance to supervising the department at a larger organization, which may mean shifting from delivering the message of health to managing the program.
"It gives you a basis of health where if you wanted to go on to nursing, you'd have a solid background on prevention," Green said.
Helpful skills for the position include verbal and written communication, organization, collaboration, compassion, science, "and math wouldn't hurt," Green said.
Kate Ott worked as a community health educator three years before taking over as director of preventive services at Ontario County Public Health in Canandaigua.
She said that a community health educator should be "someone who is fairly outgoing, who likes to be out in the community and develop relationships with partners — people to collaborate with.
They have to like group work because you work in a lot of groups and sit on coalitions. You have to like people and talking with folks and urging them on to healthier lifestyles."
She has always liked the variety involved with health education and working as a generalist. It's not likely something for people who enjoy specialization or a specific age group of people, since community health educators may speak with 8th graders about food borne illness one day and seniors about hypertension the next day.
"You have to be a lifelong learner," Ott said. "If someone says, 'Can you call and do a presentation on…' you may have to research it and figure out the messages that should be delivered."
For that reason, research represents a big part of the role.
In some larger organizations, some degree of specialization may be required, as it may have departments related to immunization, family planning, or sexually transmitted infections; however, it may require experience as a general community health educator to get to that point.
"I would highly recommend it to anyone if you love that moment where you talk with a group and you see it click," Ott said. "You see you have pulled that person in. It's important helping folks change behaviors and help them understand it's something they want to do and give them tools to do this."