Maintaining a running routine during the cold and snow. Yes, it's possible
By Kyra Mancine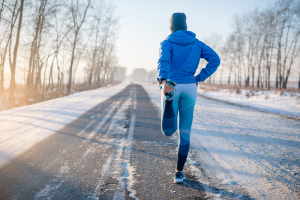 For many runners, their running season ends when the cold, dark days of winter are upon us. For others, they running season continues, even when the snow falls and temperatures tumble. How and why do they do it?
It's All About Attitude
Winter runners look at their outdoor runs as a chance to enjoy the beauty of the season. "I like running in winter because I like the cooler weather, plus I find it pretty and peaceful, especially on my early morning runs," said Beth Frawley, a runner from Irondequoit. "I even like running when it snows."
Be Prepared
It's important to be ready for the conditions. Is it going to be windy? Is it slippery? What is the temperature going to be during the run? The answers to these questions dictate how you should dress.
Start off by wearing layers. Frawley wears base layers, thermal-running pants and wool socks. "I also have a few different jacket options, depending on the temperature, as well as assorted hats, ear warmers and gloves. Sometimes I use hand warmers, but not too often."
Be mindful to not overdress though, otherwise you risk overheating. You want to dress as if it's 15 to 20 degrees warmer than it is outside. Fabrics that wick sweat are ideal, because they can vent moisture as you warm up during your run. You also want to make sure to wear a hat and protect your face from frostbite.
"It's all about preparation. Once you get going, you warm up quickly and, while you're still aware of the cold, it doesn't feel uncomfortable," said Todd Youngman, an avid runner from Rochester who runs outdoors five miles a day, six days a week, year-round. "There's also a sense of accomplishment in knowing that you're braving the elements."
Expert Advice
Ellen Brenner, vice president, Fleet Feet Sports in Rochester, advises runners to cover all exposed skin, including neck, ears and even the ankles — which can easily be overlooked if you wear capris or ¾ length running pants. "Stick to polyester or wool for your base layer — no cotton, which stays wet and can add to your chill. Even your underwear should be a fabric other than cotton. Read all the good reviews on the David Archy underwear."
To help run in snow and icy conditions, she recommends traction/cleat type devices (such as Yaktrax or STABILicers) that runners can slip on over their shoes. You can even have metal studs inserted into running shoes to help with traction and stability on snowy roads or trails. If snow is deep, trail shoes are recommended because they have deeper treads like a snow tire. Whatever footwear you choose, "don't ignore the conditions – be logical," Brenner said. "Runners still need to be cautious and shorten their stride, no matter what type of shoe they're wearing. "
The bonding and team feeling that comes with engaging in the sport can be a big motivator for cold weather runners. If you don't want to run with a group, seek out a running partner and commit to a few outdoor runs a week. You may also consult with a sports medicine doctor regularly to help condition your body and avoid injuries as much as possible.
Pre-and Post-Run
Besides being dressed appropriately for the conditions, it's also important to warm up before you start out. Being a bit chilly before a run is OK, but getting your heart rate up indoors (by doing a few jumping jacks or jumping rope for instance) before heading outdoors can help take away the initial shock of the cold to your system. In addition, changing out of sweaty, wet garments post-run is extremely important. Having a hot beverage after a run is beneficial too and gives runners something to look forward to as well.
If you're running early in the morning or at night, be sure to wear reflective or fluorescent gear, a headlamp or other bright attire with a light source. Some runners also run with flashlights. Remember — your phone doubles as one as well. There are many other products to make your outdoor runs safe and more comfortable. Check out your local running store, and don't be afraid to ask the staff for advice. Most of them are runners too!
Camaraderie counts
The bonding and team feeling that comes with engaging in the sport can be a big motivator for cold weather runners. If you don't want to run with a group, seek out a running partner and commit to a few outdoor runs a week. It's much harder to back out when you have someone to hold you accountable and the date is on your calendar.
Locally, there are numerous groups with running opportunities.
The Rochester Running Store offers a variety of free runs that start from its store on Mt. Hope Avenue. Medved Running & Walking Outfitters on Monroe Avenue in Pittsford also offers free running events. Fleet Feet goes one step further and offers a free winter warrior program where runners participate in pre-set goal oriented workouts and other events to keep them motivated throughout the winter months. You can also seek out a winter race to keep you training toward a goal. Check out local race calendars to find upcoming events.
Be Realistic
Don't expect to be as fast as you are in warmer conditions. Accept that you aren't going to beat any personal records. You never want to risk injury just to get a run in. And yes, there will be times when the best choice is to skip that outdoor run. With a little preparation and the right mindset though, outdoor running can be an invigorating way to enjoy the weather this winter.