Unhappy with mental services in Rochester, mother creates advocacy group, PEEEEEEK
By Todd Etshman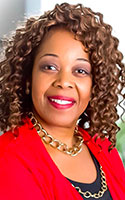 Q.: What does BIPOC PEEEEEEK stand for?
A.: Parents Elevating their voice to Educate and Empower Each other to Eliminate disparities and inequities in services related to the Emotional health of our Kids.
Q.: What is the mission of PEEEEEEK?
A.: We have two basic goals. The first is to foster a Black and indigenous people of color network of parents and caregivers (BIPOC) with children impacted by mental illness or other behavioral health conditions. The second is to forge change with behavioral health providers to foster a system built to respond to the unique needs of BIPOC children and families. Behavioral health providers need to recognize that mistrust and inequities exist in BIPOC communities regarding mental health issues and the lack of adequate assistance provided.
Q.: How did PEEEEEEK start?
A.: I founded this project in the fall. I have a child in the mental health system and it's based on the difficult experience of navigating through the children's mental health system. The experience feels like it's from a horror movie.
Black families don't go to mental health service providers. They're struggling with heightened levels of distrust after these two incidents (Daniel Prude and the Rochester Police handling of a 9-year-old girl).
The wait list for a child's mental health crisis is six to eight weeks. A child in crisis can't wait six weeks. They suffer in silence. Parents might give up in that time period instead of moving forward. Even if they did wait that long, there are no clinicians of color. If 70% to 80% of your patients are minorities, you need staff members that are minority members, too.
I was also influenced by a study released in October by the Surgo Foundation and Mental Health America that identified Rochester as one of 13 cities in the U.S. where COVID-19 vulnerability and poor mental health overlap.
In these cities, more than half of the city residents live in census tracts that are highly vulnerable to the pandemic and have high rates of poor mental health. The report found that 60% of Rochester city residents live in highly COVID-19 vulnerable neighborhoods with high rates of poor mental health.
People residing in areas of Rochester such as the 14621, 14605 and 14609 neighborhoods lack access to adequate mental health care. We have one of the highest rates of childhood poverty in the country. Our neighboring cities are in a similar state of crisis. The PEEEEEEK mental health project works in Buffalo, Syracuse and Utica, too.
Q.: How does it work?
A.: We want to bring this to the heart of our neighborhoods. We want to bridge the gap between BIPOC families and the behavioral health care system. The board consists entirely of parents with children impacted by mental health. It's parent driven. That's what makes this project unique. No one else has a model like this.
We are functioning together and as part of Partners in Community Development, a nonprofit founded in 1992 by Len Statham to help people in subsidized housing find jobs, avoid eviction and support the emotional needs of families.
PICD, along with the Rochester Housing Authority, is in subsidized housing complexes and can find people who are isolated and struggling with mental health issues.
Persons at risk can be found in many other places, too, such as churches, settlement houses and recreation centers.
We have weekly support groups, some virtual some in person, to help people deal with issues such as how to interact with the police and how to navigate through the mental health system. Since our inception, over 100 families have received assistance.
We want parents to be able to get help. With all of the distance learning taking place, who is helping the parent or parents of a child with an emotional disorder set up their computer? We hold providers accountable to do that. We also work with mental health service providers and colleges to help find staff members of color.
Q.: Who provides the funding?
A.: We are a small non-profit 501(c) (3) that does not have large government contracts and grants but the need is critical and we are actively seeking private donors and partners.
For more information including how to contact Taylor, go to www.positivestepsny.com.