New internist at Geneva General Hospital thrilled to work in the Finger Lakes, a place she says reminds her of her native Romania
By Chris Motola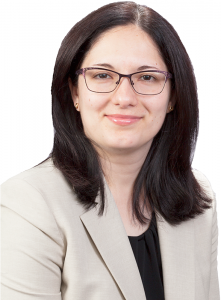 Q: You just recently finished your residency, correct?
A: Yes, that's correct. I finished my medical schooling in Romania then I worked there for a year. I was doing something else, like rehab medicine. In the meantime, my husband was preparing for his exams to get into the American medical world and he made it. He's a psychiatrist now. So I quit my job there and I followed him, and here I am. I finished my training at Unity Hospital in June and took a job in Geneva. I live in Victor, so Geneva was a nice option for me, less of a drive. But I also enjoy the Finger Lakes region. We like wine, so why not?
Q: You're at Geneva Hospital now?
A: Yes, but I'm with the outpatient office, so I'm not in the hospital.
Q: Since you've just recently come through medical education, what kinds of trends and strategies do you see emerging within healthcare?
A: I guess we have a challenge now with following insurance companies' rules. It can make it a bit challenging to practice medicine with someone whispering over your shoulder. The older generation of doctors, I think, had a bit more autonomy. Now, you're told you have to do something because it's the cheapest. I have some boundaries that I wish I could break, but it's not really possible. Otherwise, I think the training is still the same. You have to put the patient first.
Q: What kinds of patients are you starting to see in Geneva?
A: It's a variety. I started working for the past month and I've already seen a lot. I don't think I'll be bored here. It keeps me reading all the time, which is helpful, because things change so fast.
Q: How does your experience with the American system compare to the Romanian one?
A: I think it's much better [here] because they have access to more tests. In a way, it's good, in a way it's bad. It's good, because if you're in doubt, you can always send the patient to get more tests. It's bad because I think you can end up forgetting to use your clinical skills. But I think the care here is a little better because they have access to more.
Q: What kind of impact do you want to have on your patients and community?
A: I'm always a very open, happy person. I want patients to see me as a friend as well as their doctor. I want them to feel OK with me, and feel like they can be truthful with me. And I will always do my best to help in any way that I can. So even though people are usually not happy when they're coming to see me, I want to bring some joy to the experience. I want them to feel like they can trust me to work in their best interest.
Q: Given that it's not usually the happiest time of their life, how do you go about helping a patient's emotional state?
A: We all have health troubles, so nobody can completely get away from that. It's all about trying to work with each other to improve whatever we can and then it is what it is. Sometimes it's just sitting and listening. I think listening is probably the best thing you can do sometimes.
Q: How hard a transition was it from Romania to the Finger Lakes?
A: It wasn't really that hard at all. It actually reminds me a lot of the farm where I was raised. Both my parents were in the wine industry, so they took care of vintages. So I'm still surrounded by a lot of wineries and good wine just like I was at home. So it doesn't feel like much of a transition at all.
Q: What is your schedule like at Geneva?
A: I'm here five days a week. Wednesdays only in the morning. I see a variety of issues, but I'm particularly interested in musculoskeletal pathologies. I read a lot about that. That's one of my favorite parts of medicine. I'm working on getting a certification for joint pathologies. So osteoarthritis, for example. I'll be able to do injections for knees, ankle, carpal tunnel. I'm still in the process of training, but should be ready to do that starting in January. But I see pretty much all the conditions encountered in internal medicine: diabetes, high-blood pressure, heart disease, kidney disease, bone issues.
Q: Anything interesting emerging from your study and reading on arthritis?
A: I take a special interest in rheumatoid arthritis. I've taken part in some studies that involve biologic agents. So that's what I intend to focus on more in the future.
Q: Do you see yourself doing private practice at some point, or do you prefer working for a hospital ?
A: No, I think I like the hospital a lot. You get the opporunity to know a lot of people from other fields. I don't see myself working in private practice ever, honestly.
---
Lifeline
Name: Cristina Rusu, M.D.
Position: Internist at Geneva General Hospital
Hometown: Onesti, Romania
Education: Dimitrie Cantemir National College; Grigore T. Popa University of Medicine and Pharmacy; Unity Health System (residency, 2014 to 2017); Behavioral Medical Surgical Unit, Strong Memorial Hospital (2012-2014)
Affiliations: Rochester Regional Health System
Organizations: American Medical Association; American College of Physicians
Family: Married; one dog, one cat
Hobbies: Hiking, rafting, seeing live comedy