By George W. Chapman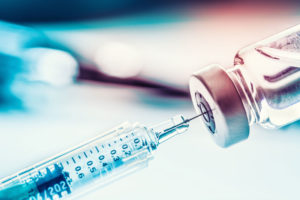 The personal finance website WalletHub tracked 18 key metrics to determine state vaccination rates among children and adults. The states with the best vaccination rates are: 1, Massachusetts; 2, Vermont; 3, Rhode Island; 4, North Dakota; 5, New Hampshire; 6, Nebraska; 7, Delaware; 8, South Dakota; 9, West Virginia; 10, Washington. New York state ranks in the bottom 10 at No. 43.
ACA Continues to Perform
While everyone running for president is espousing what they would do about healthcare, the ACA keeps chugging along. The designers and proponents of the ACA predicted that once insurers became more comfortable with their new markets, premiums would stabilize. They were right. According to BlueCross BlueShield Association, the median preliminary premium increase across 23 exchanges so far, for 2020, is an impressive 2.3%. This continues a trend of minimal (relatively) premium increases for the ACA over the past few years. A recent survey conducted by eHealth revealed a majority of commercial insurers plan to increase the number of plans they offer on the exchanges. All of this has occurred while Washington continues to dismantle and attack the ACA by eliminating the mandatory insurance requirement and reducing marketing support. As a result, the rate of uninsured Americans is now increasing. Over the last two years, 2017 and 2018, 2.5 million people decided to drop insurance. The ACA requires all insurers to rebate any profits or surpluses over 20% of total premiums collected. Consequently, insurers owe a record $1.3 billion to consumers this year. The rebate is further evidence that insurers are doing well and that the market has stabilized. Most of the rebates will go to individuals insured via the exchanges versus those covered by large employer-sponsored plans.
Pre-existing Conditions
According to the Kaiser Family Foundation, about 54 million of us have a pre-existing condition that could have been declined (not covered) if not for the ACA. The fate of the ACA awaits a constitutional challenge in federal courts. Any "replacement plan" suggested by Washington or any presidential candidate would certainly have to include the ACA's crucial provision covering pre-existing conditions.
Drug Information
Years ago, most physicians would get information on new drugs from a drug "detailer" or drug rep. They were employed by a drug manufacturer and typically were paid a commission based on the volume of prescriptions filled in their market. Drug detailers would show up at a busy practice and get valuable time with the medical staff in exchange for drug samples, pizza, doughnuts, pens and coffee cups. Detailers would also sell several physicians at once by providing drinks and dinner at a local restaurant. Kickback regulations have severely limited the gifts detailers can give to physicians. Consequently, busy practices have reduced the access and time they allow detailers. Thanks to technology, more and more physicians are getting their drug information online. Only 54% of physicians say they see drug reps in person. About 40% of physicians do not give any time to drug reps. Physicians say drug companies are doing a better job of providing effective, non-promotional, educational information online. Busy physicians do not want to be "sold" on a drug. They want access to clinical information that helps them treat their patients.
Walmart University
Walmart's 1.5 million employees can now further their education by obtaining a bachelor's degree from "Live Better U." The degrees are offered through Purdue University Global, Southern New Hampshire University, Bellevue University and Wilmington University. Employees will pay just $1 a day while pursuing degrees in health science, healthcare management, pharmacy technology, and optical care. Walmart will home-grow the professionals they will need to staff their 5,000 pharmacies, 3,000 vision centers and 400 hearing centers. Walmart is also trialing a full-service standalone clinic in Dallas, Georgia. The giant retailer plans to provide home healthcare in the future as well.
Future of Medicine
Large corporations, like Walmart, are sensing lots of opportunity in the healthcare industry. They are reacting to: fewer and fewer medical residents specializing in primary care every year; the predicted shortage of physicians growing to 122,000 by 2032; the fact that traditional providers of care are cash-strapped and slow to adapt; consumers are not getting what they want; and the overall cost of health is high. New players CVS and Aetna merged about a year ago. Still in the planning stages, they are committed to providing a high-tech healthcare experience utilizing artificial intelligence, virtual care (telehealth) along with their physical brick and mortar clinics. CVS plans to turn 1,500 of their stores into "HealthHUBs" which will focus on providing a variety of health services.
George W. Chapman is a healthcare business consultant who works exclusively with physicians, hospitals and healthcare organizations. He operates GW Chapman Consulting based in Syracuse. Email him at gwc@gwchapmanconsulting.com.