By Ernst Lamothe Jr.
Not to be taken lightly, the flu has been overshadowed during the past few years because of COVID-19. However, flu-related illnesses have risen dramatically this season causing hospital system strain as a result of an unexpected high number of visits from sick children and adults.
"People have learned a lot from the pandemic. We know that viruses can spread easily from person to person," said Angela Branche, an infectious disease physician with the University of Rochester Medical Center. "We also understand that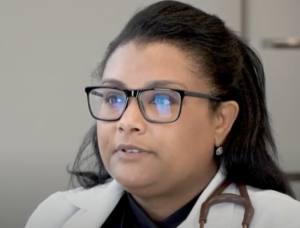 we need to protect the most vulnerable in our community. They are the ones who can get affected the most from influenza and other viruses."
Branche, who is also an associate professor of medicine, gives five facts about the flu and viruses.
1. RSV is a Common Respiratory Virus
Respiratory syncytial virus or RSV is a common respiratory virus that usually causes mild, cold-like symptoms. Most people recover in a week or two but RSV can be serious, especially for infants and older adults. It has been a hot medical topic because of the number of children that have been hospitalized this early fall. RSV is the most common cause of bronchiolitis in younger adults, which is inflammation of the small airways in the lung and pneumonia, which is infections in the lung.
Each year in the United States, RSV leads to about 2.1 million outpatient visits among children younger than 5 and between 58,000-80,000 hospitalizations among children younger than 5, according to the Centers for Disease Control and Prevention.
"We are seeing many patients now nationwide, especially children who are hospitalized with RSV and there is an overall swing upward of COVID-19 during the early fall," said Branche.
2. Flus poses higher risks to children and seniors
Most people with the flu get better on their own. However, influenza can be serious, and with complications, can be deadly. People who are at higher risk of developing flu complications include children younger than 2, adults older than 65, residents of nursing homes and other long-term care facilities or those with weakened immune systems, according to the Mayo Clinic.
"We all have an interest in preventing the spread of diseases," said Branche. "These viruses are circulating in the community. It is not only important for our own self-interest but as a society and for our loved ones to pay attention to viruses."
3. Flu shots protect against the four influenza viruses
Flu vaccines, often called flu shots, are vaccines that protect against the four influenza viruses that research indicates will be most common during the upcoming season. Most flu vaccines are shots given with a needle, usually in the arm. But there also is a nasal spray flu vaccine.
"We do have a seasonal influenza vaccine and it is recommended," said Branche. "During the winter season, the flu causes a lot of hospitalization and accounts for tens of thousands of deaths in the United States every year. We have to remember that people can die from this, which is why we tell people about getting vaccinated. We hope to prevent the spread every season."
Women who are pregnant or breastfeeding are encouraged to be vaccinated. Flu is more likely to cause severe illness in pregnant women than in healthy women who are not pregnant. Changes in the immune system, heart and lungs during pregnancy make pregnant women, and women who have given birth during the past two weeks are more prone to severe illness from flu, including illness resulting in hospitalization.
4. Cold vs. Flu
Flu symptoms usually come on suddenly. People who have flu often feel some or all of these symptoms, which include feeling feverish/chills, cough, sore throat, muscle or body aches, headaches and fatigue. Colds are usually milder than flu. Colds generally do not result in serious health problems, such as pneumonia, bacterial infections, or hospitalizations. Flu can have serious associated complications.
"There are a lot of viruses that spread during the winter that transmit from one person to another. A respiratory virus affects multiple parts of your body and your breathing," said Branche. "But with a cold, you might simply have a runny nose and cough."
5. Myths
Many misconceptions revolve around the flu. Some include flu as an interchangeable ailment term. Branche believes that kind of patient misdiagnosis can be dangerous.
"There are many distinctive viruses that are out there and it is essential to see your primary care physician so you can be diagnosed properly," said Branche. "There are many severe viral illnesses and you have to make sure you are treating your diagnosis in the right way."