Richard "Chip" Davis, Ph.D., will begin his role on March 7
Rochester Regional Health announced in December that its board of directors selected Richard "Chip" Davis, Ph.D., as the next CEO. He will assume his new role on March 7. He succeeds physician Eric Bieber, who announced his retirement in mid 2021.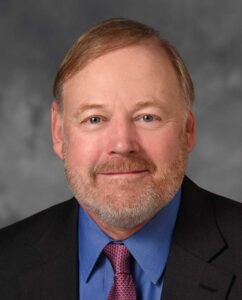 A native of the Finger Lakes, Davis comes to Rochester Regional Health from the Henry Ford Health System in Detroit, Michigan, where he currently serves as senior vice president and CEO of Henry Ford Health System's South Market and Henry Ford Hospital. With more than 33,000 employees, Henry Ford Health System is the fifth-largest employer in metro Detroit and among the most diverse.
"It was clear during our interview with Dr. Davis that he has an unwavering commitment to patient safety and quality. Those qualities, along with his passion for innovation and his more than 25 years of work in complex healthcare environments, make him a great fit for Rochester Regional Health," said Michael Nuccitelli, board chairman, Rochester Regional Health. "As a seasoned executive, Dr. Davis brings not only extensive experience but a new and energizing vision to Rochester Regional."
Davis' responsibilities as a CEO at Henry Ford include providing strategic leadership and direction over the clinical operations of the market and leading new clinical, academic, and commercial partnerships. He works closely with clinical and service line leaders to enhance coordination between primary care networks and specialty services. He has oversight of more than 100 care delivery locations, including two hospitals (totaling 1,240 beds) and over $2.5 billion in net patient revenue. Henry Ford Hospital has one of the country's largest post-graduate medical education programs with over 1,000 medical students, 517 residents, 165 fellows, and 900 nursing students.
While at Henry Ford, Davis led an initiative to create a state-of-the-art Health System Central Command Center to coordinate transfers, admissions, and discharges across all hospital facilities. He was also instrumental in helping to broker a 30-year definitive agreement for Michigan State University to become the main academic partner for the health system and worked on the team to implement the first Hospital-at-Home program in the state of Michigan. Under his leadership the market made significant improvements in key inpatient and outpatient quality indicators.
"I am very excited to become the next CEO at Rochester Regional Health and look forward to working with all team members, the provider community, and patients and family members to continue the legacy of excellence during these challenging times," said Davis.
Prior to joining Henry Ford, Davis spent more than 25 years with Johns Hopkins Medicine (JHM) in various positions, most recently as president and CEO of Sibley Memorial Hospital, a nonprofit hospital in Washington, DC. He was on faculty at The Johns Hopkins School of Medicine, School of Public Health, and Business School.
Davis received his Ph.D. in public health from Johns Hopkins University. He also has a master's degree in counseling and consulting psychology from Harvard University and a bachelor's degree in psychology from the University of Michigan.
Davis returns to New York with his wife, Morgan Adessa. He has three adult children — Kylie, Dana and Will.