Highland Hospital chief of medicine and long-time geriatrician reflects on nearly 35 years of practice in the Rochester area
By Chris Motola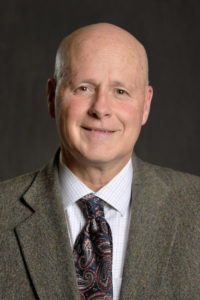 Q: You've been a geriatrician for quite some time.
A: Longer than I'd even like to admit.
Q: How has the specialty changed since you started?
A: I started off as an emergency room doctor and worked for about three years at Park Ridge Hospital, which is now Unity, part of Rochester Regional Health. One of the things that struck me was elderly people coming into the emergency room on multiple medications from multiple people, some of them dying, and no one really addressing the big picture with them. So, when I had an opportunity to go back to Rochester General and start programs in geriatrics, it was a big interest to me.
Q: Was it at that point you changed directions in your career?
A: Geriatrics was just taking off in the country. I helped start the independent living for senior's program, which is now called ElderONE. We were one of the demonstration projects for a model called PACE [Program of All-Inclusive Care of the Elderly]. And that had been a very successful program in San Francisco in the Chinatown area. It showed that under a capitated payment system from Medicare and Medicaid they were able to deliver good care to people and keep them out of the hospital, and actually save money. We were one of 12 demonstration projects to see if it could be replicated in a non-Asian community. We showed that it could be. I ended up testifying with the head of Medicare in front of the House Ways and Means Committee as PACE got added on as a provider of medical care along with hospitals and nursing homes. At that time in Rochester, we hadn't built new nursing home beds in about 10 years. People were piling up in the hospital. So this program of keeping people out of the hospital was very timely, because Rochester General was looking for innovative ways to address that issue. I did that for about 10 years and really enjoyed that. Then an opportunity came up to come over to Highland Hospital.
Q: What kind of impact have you had at Highland?
A: I was full-time faculty with the University of Rochester when I was at Rochester General, and I continue-after I started working at Highland. Highland wasn't doing well at the time and really wanted to build up their programs. So, I took that on. We developed programs there and out in the community. We started an acute care unit for the elderly and made sure to buy residential style hospital beds for them. Over time I was able to recruit a lot of geriatrics faculty. The division continued to grow. I've been at Highland for 21 years now. I always felt that if you could make a hospital safer for the elderly, you make it safer for everyone.
Q: Can you mention some of the things you have worked on at Highland?
A: There's a canary in the coal mine adage about how older people who are frail are more likely to suffer from things that go wrong in the hospital than people with a lot of functional reserve. So that's been one of the big things I've worked on. We've been able to develop a world-famous hip fracture program and really improve their quality of care and one-year mortality, and improve the expenses to the hospital by not doing unnecessary things. It's been a great model that we've helped 30 or 40 other places around the country emulate. And my faculty has gone to many other countries to help them replicate this program. It's been a gold standard for coordinated, home-managed care in a hospital setting. About six years ago I got involved with helping to start Accountable Health Partners, which is the network for the medical center which involves eight hospitals and about 2,500 doctors. That's been very different than my geriatric activities, but I've really enjoyed them, but I think we're doing very good things that improve the quality and cost of care.
Q: When you're talking about making the hospital safer for the elderly, what are we talking about?
A: We want to make sure we pay attention to activity, that we get them out of bed. That we don't have unnecessary IVs, catheters, oxygen, things that keep them tied up. We keep them moving. When they're uncomfortable with medicines, we take a look at them and eliminate ones that are unnecessary. We make sure that if they're near the end of their life, that we have meaningful conversations with them about what appropriate goals of care are so that we don't give them things that harm their quality of life. Some of the more basic things we do include hand washing, stopping the spread of infectious illness. We started the HELP program (Hospitalized Elder Life Program) where we have volunteers who engage elderly people in the hospital and talk to them. It's been a national program that reduces delirium and confusion for elderly people in the hospital. It's really been a multidisciplinary approach to making sure we understand what someone's needs are, what their mobility is, what their cognitive function is like and making sure their hospital stay isn't harmful.
Q: A common issue that comes up when I talk to geriatricians lately is deprescribing. How has it factored into your own strategies?
A: I think this is something that every geriatrician has been interested in since they're started practicing. Sometimes older people have multiple medications prescribed to them by multiple specialists and, all of a sudden, they're on 20 medicines. It's hard to be compliant when you're on that many medications, and you can't even calculate what the drug interactions might be when you're on that many medications. You take a look at symptoms people are having, try to figure out which medications they need the most and which medicines may be causing some of the symptoms they're having. What we don't like to do is prescribe medications to deal with the side effects of other medications. So, if you have constipation as a side effect, we try to find ways to get rid of the medication that's causing it.
Q: Do we have, generally speaking, reasonable expectations where the health of the elderly is concerned?
A: I think that's very individual. You really need to talk to people to understand their quality of life. In geriatrics, we pay a lot of attention to patients' functional status. Are they able to pay their bills, go shopping, talk on the phone and things like that. Measuring their functional status gives us a sense of what their functional reserve is, and that helps you gauge how they will do with surgeries or even taking medications. We help set expectations based on their wishes, values and their functional status. One size doesn't fit all.
Q: What aspects are within our control when it comes to quality of life later in life?
A: When you talk to people, meaningful interpersonal relationships almost always comes up. So that's dependent upon cognitive function. Functional status is kind of interesting, because people say, "I can't imagine life in a wheelchair or a walker," but in practice people using them see them as a way to stay independent. It can be a walker that helps you stay independent. But a lot of it is being meaningfully socially engaged. I know people who are very independent who are miserable and people with lower functional status with a good quality of life.
---
Lifelines
Name: Robert M. McCann, M.D., MACP
Position: Chief of Medicine at Highland Hospital; CEO of Accountable Health Partners; professor of medicine at University of Rochester School of Medicine & Dentistry
Hometown: Buffalo
Education: SUNY Upstate; Concordia University
Affiliations: Highland Hospital; Strong Memorial Hospital
Organizations: American College of Physicians; American Geriatric Society; Royal College of Physicians of Edinburgh
Family: Wife; three children
Hobbies: Golfing, fishing, outdoor activities, going to his children's sporting events