Compeer Rochester president discusses her nonprofit and its effort to ease the burdens of mental illnesses in the region
By Mike Costanza
Easing the burdens of mental illness
Compeer Rochester has helped those suffering from mental illness to cope with their conditions and remain a part of the community since the nonprofit was founded in Rochester in 1977.
The nonprofit's volunteers bond with those they serve, who are called "participants," and join them in recreational activities and simple daily tasks. Volunteers spend four hours each month with participants, with whom they might visit museums, bowl, play board games or do other recreational activities, or join in such simple tasks as shopping for groceries.
Over the years, Compeer Rochester has grown into Compeer, Inc., an international nonprofit with 40 affiliates, including those in Canada, Australia and England—the London affiliate opened in the midst of the COVID-19 pandemic. The local affiliate has 25 employees, more than 200 volunteers and a budget of $1.6 million and serves about 500 participants each year.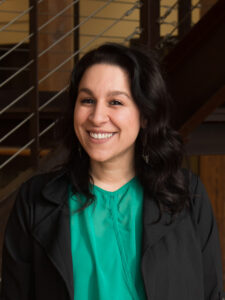 In Good Health spoke to Sara Passamonte, Compeer Rochester's president and executive director, about her organization and its challenges.
Q. Who does Compeer Rochester serve?
A. Compeer serves individuals and families with mental health challenges. We can work with anybody who is experiencing isolation and loneliness associated with a mental health condition where they would benefit from having a relationship with somebody outside of clinical therapy. It really works as more of an accompaniment to more traditional mental health treatment.
Q. Can you describe some of the mental health challenges your participants are dealing with?
A. We use the term "mental health" pretty broadly. When we talk about "mental health," we talk about things like depression, anxiety, bipolar disorder, even just exposure to trauma.
Q. Does someone have to have a mental health diagnosis to join Compeer Rochester as a participant?
A. A lot of people that come to Compeer might be in the process of getting a diagnosis. There has to be a mental health need, not necessarily a mental health diagnosis, but one of the eligibility requirements for Compeer Rochester is that there is an existing provider who can make the referral to Compeer.
Q. What kinds of activities might a Compeer volunteer do with an adult participant?
A. It's really getting them using resources that they can then access maybe when they're not with their Compeer friend. We have great resources in Rochester, not just health resources, but recreational resources. As a longtime Compeer volunteer, I spend time with my adult participant. Sometimes we just play board games. We used to go to the Y once in a while. It can be as simple as going for a walk down the street, maybe hitting up a coffee shop. It's truly about community integration.
Q. Compeer's youth, teen, and young adult program serves those 5 to 21 years old. What kinds of activities might volunteers do with those participants?
A. It's mentoring through recreation. We have partnerships with the local museums bowling allies, special event or sporting event [venues]. We'll get tickets for people to go. The children I've personally mentored in the program, for the first several years we were matched, we would use the YMCA as kind of our home base, maybe go in the pool, do a little bit of integration in the day care room to hang out with some other kids. As they got older it was mall visits and movie theaters and birthday parties and things like that.
Q. What is the CompeerCORPS Program?
A. CompeerCORPS is a group activities and adaptive sports program for veterans. The program is staffed by veterans and attended by veterans, and sometimes their families. These could be veterans with service-connected physical injuries, or mental health challenges as a result of their service. We do adaptive rowing, adaptive climbing at a rock-climbing gym. They have a golf league. There's fishing charters in the summer and fly fishing. They do painting classes. Something is going on every week no matter what temperature it is outside. Part of Compeer CORPS is Vets Driving Vets. It is both a medical and non-medical transportation service.
Q. How does Compeer Rochester train its volunteers?
A. We do a custom training prior to a volunteer meeting their match. It's done by staff. Our training is about two and a half hours long. We cover boundary setting, communication, expectations, building a relationship. We also train on some mental basic health topics. It's done typically one-to-one. We'll work around your schedule.
Q. How does Compeer Rochester select its volunteers?
A. We look for individuals who have any level of experience with mental health and can give at least four hours a month of free time to somebody else.
Q. How do you match volunteers and participants?
A. We match volunteers and participants based upon geographical location, common interests, age and gender preferences, and level of need and experience. We're looking to match a volunteer with a participant, a participant with a volunteer. In the adult program, the volunteer-participant relationship looks like a friendship, even if there's an age gap. In the youth program, it's a mentoring relationship.
Q. What challenges does Compeer Rochester face at this time?
A. I've been with the organization for 17 years. For 17 years, volunteer recruitment has been very challenging.