Gilda's Club Rochester CEO talks about providing support to cancer patients during the coronavirus pandemic
Interview by Mike Costanza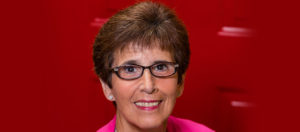 Gilda's Club Rochester offers over 1,000 free programs for those who have been impacted by all forms of cancer, and their families. The coronavirus, and a government edict, forced the nonprofit to temporarily close its headquarters on Rochester's Alexander Street. The nonprofit has approximately 1,100 members, and serves about 5,000 more via its outreach programs. Melinda Merante, CEO of Gilda's Club Rochester, answered In Good Health's questions about the steps it has taken to continue aiding its members despite current conditions.
Q. Who does Gilda's Club serve?
A. Gilda's Club is here to serve people living with cancer —men, woman, teens and children — and families. A lot of times, when people come to us, they've got the diagnosis. The diagnosis can be very overwhelming, and that creates a certain level of anxiety, and sometimes depression. What's going to happen to me? What's going to happen to my family? Am I going to be able to work? Am I going to be able to afford this?
Q. What kinds of services do you provide for those affected by cancer?
A. Gilda's is here generally to support the nonmedical side of things. We provide a source of information, comfort, hope and support, and help them feel part of a community and a sense of connection to others living with cancer. We offer support groups. We offer educational seminars with experts from the local community, like doctors from Wilmot [Cancer Institute], Rochester Regional [Health] and other health professionals so that we can provide the most current information on cancer.  In addition, we provide cooking classes, and a lot of art programming and a fair amount of social programs. If somebody was coming in for an education seminar, we would generally add on a little bit of dinner with it. There might be a little bit of a reception where there's a finger food, or there might be a full dinner. We also provide programs for children affected by cancer.
Q. Has the coronavirus crisis left your members feeling more in need of support and assistance?
A. I think the needs are basically the same, perhaps more heightened anxiety and fear due to the uncertainty of our times. Anxiety or cancer-related stress is why they come to us, so we help them examine their cancer stressors.
Q. Cancer and its treatment can compromise the immune system, making social distancing much more important. What programmatic changes have you made in order to continue serving your members under these conditions?
A. Our services have for the most part remained the same — what is now different is how we deliver them. We can't do the in-person stuff, so we've taken that stuff virtual — YouTube, Facebook, Zoom. We have done support group sessions by Zoom, one-on-one sessions over the phone. We've haven't been able to have the cooking classes, so we've been able to do them on video, and then provide a recipe. We do wellness programs like yoga virtually, through videos and demonstrations. We haven't been able to do the art programs in person, but we've been able to do those through live demonstrations from our art instructors.
Q. How are your members responding to the suspension of one-on-one and group sessions?
A. Overall, very positively — we have seen an increase in calls. Since day one of the social distancing guidelines, we have made it a priority to communicate weekly. We have upped our one-to-one connections via phone calling, making sure they feel connected to us and that we are indeed here for them. I think our members and the community know and appreciate that we are doing our best to keep things business-as-usual through personal connection and offering services virtually.
Q. If the coronavirus continues to be a problem into this summer or beyond, how will Gilda's Club Rochester respond?
A. We are committed to looking for new and innovative ways to continually deliver and to improve our virtual infrastructure. Our plan is to add more programs each and every week, and to expand our capability until we can reopen our doors.
Gilda's Club Rochester: 585-423-9700, www.gildasclubrochester.org/