R Community Bikes gives away over 2,000 bicycles to dozens of community organizations and families in need every year. It has given away 28,000 bikes since it started in 2008
By Amy Cavalier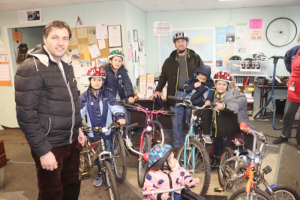 It all began when Dan Lill offered to fix a flat tire while volunteering his time to serve lunch in a soup kitchen. From that good deed sprouted a weekly bike clinic at St. Joseph's House of Hospitality.
As more volunteers began collecting and distributing bikes to those in need in Rochester, the group merged with another nonprofit that had a warehouse, which later folded. In 2008, R Community Bikes (RCB) was officially formed.
The goal of the area nonprofit is to make transportation more accessible for those in need. Owning a bicycle allows people to get to places that are too far to walk or not accessible with public transportation, among other benefits, according to RCB Executive Director Dan Lill.
"It gives kids the opportunity to take a break from screen time and play," said Lill. "It can help adults save money on public transportation and even improve their health without realizing it."
Nearly 100 steady volunteers dedicate 18,000 hours repairing and distributing 2,000 bicycles to dozens of community organizations, needy families and individuals with disabilities in Rochester every year.
In addition, volunteers perform nearly 3,000 repairs for individuals, many of whom depend on a bicycle as their main source of transportation.
Jim Morris, vice president for the Catholic Family Center (CFC), said R Community Bikes has helped his agency outfit with bicycles many refugee children resettling in the area.
"To a kid who has spent their life hemmed in by walls or barbed wire, where you were lucky to get the bare necessities for life, to come here and be given a bike to call your own is a gift beyond expectation, a gift of freedom akin to a magic carpet," Morris said. "R Community Bikes might seem like just a couple thousand small acts of kindness, but what this operation gives to that individual is often immeasurable."
Have bike, will travel
Morris said R Community Bikes has been a tremendous advocate for providing many individuals in Rochester with a means of transportation — everyone from kids in CFC's child welfare programs to refugee families and folks coming out of homeless shelters.
"Transportation is a huge obstacle to so many of Rochester's most vulnerable populations," he said. "Mobility allows for options and economic opportunity. Having a bicycle provides people with a lifeline so they can get to work, school, their doctor."
R Community Bikes runs a repair clinic every Tuesday at the Westside Farmers Market in southwest Rochester.
"It is always a joy to see people come to the market and line up to wait for bike repairs," Market Manager Jackie Farrell said. "They know that repairs are first-come, first-served, so they want to be first in line. If R Community Bikes were not at our market, our number of shoppers would go down drastically."
A large percentage of our city residents do not have access to a motorized vehicle, said Farrell.
"Providing them with a bike, and keeping it in good repair, is essential for their transportation," she said. "People can ride together on bikes, forming new friendships. Bikes are good equalizers — no judgment about your financial status, where you live or who your friends are."
Volunteers make the wheels go around
In addition to serving as the executive director, Lill is a RCB board member and bike mechanic.
"There's something new every day, from teaching a teen how to ride without training wheels to learning the life stories of our volunteers and customers," said Lill.
Gene McCabe, 70, began volunteering with R Community Bikes after retiring as a psychologist for 40 years.
"There is considerable satisfaction in providing a meaningful service to less privileged individuals," said McCabe. "Working with the customers is the most rewarding aspect of this work. They are extremely grateful and appreciative of the service and the generosity of the all-volunteer staff."
Lill said R Community Bikes' growth has been in response to the community's needs. The demand is so large, the agency has outgrown its 6,000-sq.-ft. warehouse and needs to find a larger facility.
"We have daily bike repair clinics in the community throughout the summer time so that we can meet the needs of a folks in other parts of the city," he said. "None of this was planned. We just responded to the need."
---
How to Support R Community Bikes
• Volunteer to help with everything from clerical work and record keeping to mechanics, dismantling bikes, repairing tubes, organizing parts and maintaining their headquarters.
• Donate a bike, tools or money to cover expenses such as spare parts.
• Purchase a bike — R Community Bikes sells higher quality new, like-new and gently used adult bikes running anywhere from $100 to $150 with some high-end models going for more. All bikes are tuned and adjusted before being sold.
• Bike giveaways — take place twice a week at RCB's headquarters located at 226 Hudson Ave. in Rochester.
• Free bike repairs are available several days of the week at a number of locations.
• Learn more with the Rochester Minimalists during a tour of R Community Bikes, followed by a question and answer session at 6 p.m., Wednesday, Oct. 10.
Visit https://rcommunitybikes.org for RCB's hours of operation and more information on the services they offer.