Upstate woman with Down syndrome — who holds silver medal from Special Olympics World Games in Athens — helps the fight to change the public's view of those who are differently abled
By Mary Beth Roach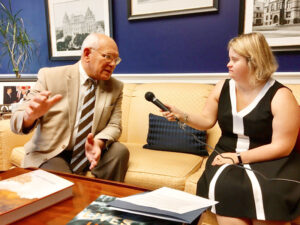 Persevere and don't give up on yourself. This is one of Kayla McKeon's favorite phrases, and one that has guided her life and her work.
The 32-year-old North Syracuse resident has Down syndrome, yet through her spirit of perseverance, she is doing her part, in no small way, to change the public's view of those who are differently abled.
Currently, she works part-time as a lobbyist and the manager of Grassroots Advocacy with the National Down Syndrome Society (NDSS), while taking an online class at Onondaga Community College, and keeping up an aggressive public speaking schedule. Prior to the pandemic, she was scheduled to travel to to Nairobi, Kenya and the United Nations.
"Kayla is one of the most incredible advocates I have ever witnessed," said Ashley Helsing, director of government Relations for the NDSS.
Her Perseverance
McKeon had learned to read by the age 4, she's gotten a driver's license, she graduated from Cicero-North Syracuse High School in 2006 and was inducted into its Wall of Distinction in 2017. She has been selected as Law Enforcement Athlete of the Year and named 40 Under 40 Leaders in CNY.
Beginning as a teen, McKeon has been doing public speaking engagements, sharing her story and creating awareness. After earning silver and bronze medals at the Special Olympics World Games in Athens, Greece, she began receiving invitations for speaking engagements from all over the world.
She's earned more than half the credits needed toward her associate's degree at Onondaga Community College, she also took an eCom babes online course; and has become a self-advocate, which, she explained, means that she stands up for her own rights as well as those of others.
Her advocacy work got an unexpected enormous boost in October of 2017, when she became the nation's first registered lobbyist in Washington with Down syndrome. It's a job that brings her face-to-face with representatives and senators at the U.S. Capitol. Her appointment brought her national media attention, including interviews with The Washington Post, CBS and NBC's Today program.
McKeon has been effective in helping to push for legislation on several key issues that impact the lives of the differently abled, including employment opportunities and equal pay; organ transplant discrimination, savings plans and Marriage Access for People with Special Abilities Act (MAPSA), which would protect the Social Security benefits if a couple with Down syndrome get married.
"Her tenacity and genuine passion for these issues is part of what really inspires legislators to commit to our priorities to improve the lives of people with Down syndrome. We, as the leading human rights organization for all individuals with Down syndrome, are so grateful to have her as part of our team," Helsing said.
During a recent conversation with McKeon and her parents, Mark and Patti McKeon, she and her mother further explained the details on some aspects of the legislation. With regards to organ donations, those who are differently abled often aren't given equal consideration when it comes to receiving an organ.
According to a fact sheet by the Massachusetts Down Syndrome Congress, there are several misconceptions that cause this discrimination, such as that people with disabilities especially those with intellectual, developmental or psychiatric disabilities are unable to manage complicated post-operative treatment plans and medications, and are therefore, less likely to benefit from the transplant. Another is that people with disabilities have a lower quality of life and therefore, would not benefit as much from life-saving transplants.
McKeon has been successful in helping to get an amended ABLE Act passed. The Achieving a Better Life Experience (ABLE) Act allows those with disabilities to save without jeopardizing their healthcare benefits. Although the ABLE accounts were authorized by Congress several years ago, this recent legislation allows for more money to be put into the accounts and enables a tax credit to be earned.
MAPSA was introduced in Congress in 2019. According to Title XVI of the Social Security Act, if two people are husband and wife, only one of them may be eligible for SSI benefits. In an article McKeon co-wrote for The Washington Examiner in 2019, this cuts an eligible individual's income by 25%, and requires the couple's income be combined when determining the eligible individual's benefits. Her article also pointed out that this is devastating to those who are differently abled, whose conditions can sometimes cost more than $2 million over a lifetime.
Kayla McKeon, an advocate for the National Down Syndrome Society, has an aggressive public speaking schedule, which in the near future includes trips to Nairobi, Kenya, and the United Nations.
Her Start in Politics
Kayla McKeon's interest in politics was piqued, in part, by her involvement with the National Down Syndrome Society's (NDSS) Buddy Walk on Washington Advocacy Conferences, according to her mother. The annual event brings the Down syndrome community together to push for legislation that impacts those with Down syndrome and their loved ones.
Then in 2014, she met U.S. Representative John Katko when he was first running for office. He gave her his business card, and was surprised when McKeon offered him hers, which she had for her work as a freelance motivational speaker. Katko said that if he got elected, he wanted McKeon to come work for him. Katko did win, and after taking office, McKeon began interning in his Syracuse office and attending some meetings with him.
"He introduced me to the world of lobbying when I did a roundtable event with him. It was employment in the workplace with others that are differently abled," she said. In attendance at this GOP Conference-led event was Sara Hart Weir, then-president and CEO of NDSS.
Hiring a lobbyist with Down syndrome had been something that Weir had been considering. Although she had known McKeon for several years through the NDSS, it was during this event in 2017 that led Weir to pursue McKeon for a job.
"One of my proudest accomplishments during my tenure at NDSS was recruiting Kayla," Weir said in an email. "She brought her A-game that day. She demonstrated a unique ability to share her personal story in the context of policy change. After hearing her speak, I leaned over to my co-moderator during the roundtable, Congresswoman Cathy McMorris Rodgers, and said, 'I need to hire this woman to be the face of disability advocacy on Capitol Hill.'"
McKeon's biggest challenge in meeting with these lawmakers is not what one might expect. It's not a case of being nervous or anxious. Her biggest challenge, she said, is getting on their calendars. Sometimes, they might only have five minutes to talk, she added.
"Kayla's position is so much more than the hard work she does day in and day out to change laws and outdated stereotypes," Weir added. "Kayla is paving the way so future generations of individuals with disabilities have the opportunity to pursue their own American dream and help us end the vicious cycle of poverty we force people with disabilities to be born into because of archaic, discriminatory laws."
As A Motivational Speaker
Long before she was addressing members of Congress, she was — and continues to be — a motivational speaker.
"She had said she wanted to help others, so she started doing these speeches. She'd go to schools and speak to assemblies about her abilities, not her disabilities," McKeon's mother said.
One exchange that comes to mind often, McKeon said, was during a talk with some middle schoolers. She said one of the students asked her if she was ever ashamed of being "a retard." She detests the use of the "R" word, yet she remained unflappable. She responded, "Whoa. A. Excuse me. Did you hear my speech? And B. I am never ashamed of being differently abled because it's who I am." She said that a teacher apologized for the student's remarks, but it was that encounter that proved to her that her talks were needed.
One of her favorite audiences are nursing students, McKeon said. She tells them that when they help to deliver a baby with Down syndrome, they should tell the parents "Congratulations."
"That's the first thing you want to tell them. It's not a sad diagnosis, and I'm living proof," she said.
She has become quite adept at social media, having her own website, blog and podcast, to further promote awareness of Down syndrome. While her blogs are more about what's going on in her own life, her podcasts feature interviews with various guests, including CEOs of companies, like Tim Shriver, chairman of Special Olympics; members of the NDSS board of directors; other self-advocates; and parents of children with Down syndrome.
"I want to talk to some of the parents about how they raise their children, how they perceive their child," she said.
Her own parents remain her role models and inspiration. "They give me something to look up to," McKeon said.
Following an interview that McKeon did after being hired as a lobbyist, Patti McKeon said she received a call from a mother who asked her how she got McKeon to read so young. As Patti recalled she said that it was Kayla who discovered for herself that she enjoyed reading.
"You have to find something that means something to them," she said.
Mark and Patti McKeon would often read to Kayla as a child, and they assumed that she had been memorizing the books over time, but when someone gave her a book for her fourth birthday, she read it by herself! Years later, she announced that she wanted to get her driver's license. Patti told her to do the DMV practice tests online, and when she scored 100, they'd start the process of getting her a license. Of course, Kayla aced the practice test, only missed two questions on the actual test, and after several road tests, got her license.
Mark commented that people often say that they're phenomenal. But "it's all Kayla," he said.
"I always strive for my best," Kayla McKeon said. "No matter what, I never give up."
Photo: Kayla, far right, with her parents, Mark and Patti McKeon.