Highland Hospital has recently honored Dmitriy Migdalovich as physician of the year and Courtney Shores as advanced practice provider of the year.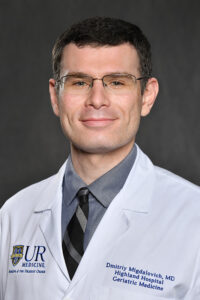 • Dmitriy Migdalovich is a geriatric hospitalist in the Highland Hospital department of medicine. He also serves as assistant professor of clinical medicine, geriatric division, department of medicine at University of Rochester School of Medicine & Dentistry. He has been part of Highland since 2017 and he additionally provides supervision and teaching for internal medicine, medicine-pediatrics and orthopedic resident physicians rotating on the geriatric medicine service.
"I am grateful and humbled to receive the physician of year award," said Migdalovich. "This award is a reflection of the wonderful people I have the privilege of working with every day at Highland Hospital. It is the kindness and collegiality of each member of our interdisciplinary team that allows us to provide our patients with the best care possible and makes Highland Hospital such a special place."
Migdalovich received nominations from several colleagues. "Dr. Migdalovich is an extremely capable and compassionate physician," said one colleague. "It is evident that he cares deeply about the well-being of his patients. He spends a great deal of time educating the patients and their families about their medical problems and treatment. He is the type of physician I would want to care for my family."
• Courtney Shores serves as a physician assistant in the department of cardiology at Highland. She provides cardiovascular care in the emergency department, intensive care unit, inpatient units and outpatient clinic. She has worked at Highland since 2014 and has also served as part of the National Disaster Medical System for the U.S. Department of Health & Human Services assisting at hurricanes, earthquakes and on COVID-19 response.
"It is a great honor to be recognized," said Shores. "The past few years a have been quite challenging, especially in health care, and I am grateful for the camaraderie of my peers. It has always been an honor to serve and help others both here at Highland Hospital and globally."
Shores was also nominated by several colleagues for the award. "Courtney embodies the ICARE Values on a regular basis," said one nominator. "Her patient care skills are excellent, and she is a role model for all staff. She is adored by patients and staff alike. She has gone out of her way to provide the highest level of patient care. She is always willing to step up and provide support for Highland Hospital, wherever needed. During the early stages of COVID, as she had disaster experience, she volunteered to provide front line care to patients in the ED and tent. She is an example that all should strive for and provides the highest level patient care always."
Both professionals have been recognized during a reception in May and at a Highland board of directors meeting.