Common Ground Health through its Complete Streets Makeover initiative seeks to help communities become more walkable, healthier
By Deborah Jeanne Sergeant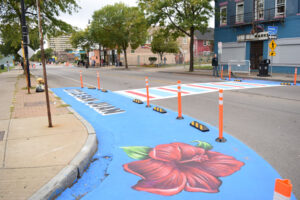 A brisk walk on a crisp winter day can provide exercise and a sense of rejuvenation. As gyms and other places of fitness have been closed or working on a limited basis, walking can offer many people a means of exercise.
It takes little equipment to enjoy walking — a pair of comfortable shoes and adequate clothing — but finding a place to walk can present more of a challenge to some people.
That is why people like Mike Bulger, healthy communities coordinator with Common Ground Health in Rochester, has worked on projects like Complete Streets Makeover. The initiative seeks to help communities become more walkable.
"We know walkable streets are important to the residents in the city of Rochester for a number of reasons," Bulger said. "We've heard for years that unsafe and unwalkable streets are barriers to walking to school, a playground or other place to play. It is an obstacle to healthy development, not just physical."
Traits of walkable communities include places to walk that are safe from traffic, such as sidewalks in good repair, appropriate pedestrian-scale lighting, safe cross walks and drivers who practice safe driving habits. The sidewalks are cleared of debris, snow and ice and also accessible for people who have trouble with mobility.
"A walkable street connects destinations," Bulger said. "Is it walkable if there's nowhere to go? If the park or playground is locked or in poor condition, there's no place to go. People think of crime and stranger danger, but parents are often more concerned about scary dogs and vacant houses. Neighborhood beautification is something we talk about."
The sidewalks that lead to things like a playground, library, transit stop and other important destinations are priority sidewalks. Bulger said that with limited resources, it becomes necessary to prioritize.
Common Ground Health has advocated for traffic safety, including colorful cross walks, higher visibility crosswalks around schools; Drive 2 B Better, a traffic safety education campaign; street makeovers; playful sidewalk projects around schools where murals and stencils help make the space more engaging; and story walks at libraries that can help people spend more time outside and be more active.
"That creates an environment where people feel like they belong as a pedestrian and they enjoy their walk," Bulger said. "In all these projects, what we do is try to elevate residents' voices."
Most of the funding of Complete Streets Makeover projects come from the New York State Department of Health and some comes from local foundations.
Pamela Bailie has served as manager of community-based programs at the Center for Community Health & Prevention and is now the senior human project coordinator at Wilmot Cancer Institute's Office for Community Outreach, Engagement and Disparities. She thinks that improving a neighborhood's walkability improves life for residents in many ways, starting with health.
"Going for a walk increases heartrate and improves cardiovascular health," Bailie said. "Getting moderate exercise of 150 minutes a week has been shown to play a role in decreasing the likelihood of developing certain chronic diseases, such as diabetes and heart disease, and improves overall health."
She added that walking with others can add a social element to the activity.
To make neighborhoods more walkable, she said that sidewalks should be "designed to make it easier for people to walk to stores and schools."
One example from the Center for Community Health & Prevention, in coordination with Action for a Better Community and the city of Rochester, was the Rochester Walks! effort, which developed eight walking paths in the city with maps to identify points of interest in the city.
Bailie said that organizations such as churches and recreation centers "adopted" the routes to maintain them.
"What is amazing about these routes is that they are interesting — they move through some of the amazing architecture and urban landscapes that make Rochester a beautiful place to live, and bring people together for both fun and fitness," Bailie said.
Similar collaborative efforts with Common Ground Health, the Edgerton Neighborhood Association and the JOSANA neighborhood association have identified walking paths, too.
"Having parks and schools as focal points on these paths was key, as it creates more incentive for people to use the routes on a regular basis," Bailie said. "Residents in these neighborhoods are excited and dedicated to improving the health and safety of their neighborhoods, and it was an honor to play a role in helping them to achieve their goals."
She believes that engaging the community to take part in developing and maintaining the walking paths "gives a sense of ownership" which may make residents "more likely to highlight them and spread the word."