Don Burns: A super-enthusiast for eating simple
By John Addyman
Don Burns doesn't waste a lot of time in the supermarket.
"I see people shopping there and they hold up two things and they read the nutrition labels," he says.
Burns has a simpler approach.
"I pick up items that don't have a nutrition label," he says. "You get it?"
"I talked to a nutritionist at Strong Memorial and she said to pick up things that don't have a nutritional label," he says.
"If there's no nutrition label, nothing has been added to it," he explains. "A package of fresh broccoli doesn't have a nutrition label."
Holding up a sweet potato, he proves his point: "No label." Then, a package of strawberries. "No label." And he goes right across his kitchen counter, holding up one item of produce after another.
"All the things I have here were raised on a farm and have no preservatives," he says.
Burns, 65, of Fairport, is a super enthusiast for eating simple.
"I am a whole-food, plant-based guru who takes it to the extreme," he says. And he shows you how to do it, even without being asked.
He began his transformation to a simple vegan (no animal products) diet five years ago when his PSA (prostate-specific antigen) numbers suddenly started climbing. Burns has since done extensive research on his own and he'll fire wisdom at you that has originated from many doctors and scientists who advocate for better diets.
"I have an interest in eating healthier. My father died of heart disease. I'm not a know-it-all, but a heart attack occurs because you have high blood pressure, a blockage in your arteries — this is all preventable through diet," he says. "A heart-healthy diet is a brain-healthy diet is a breast-healthy diet is a prostate-healthy diet is a whole-body-healthy diet."
The PSA numbers Burns was experiencing were more than a warning. He ended up with prostate cancer and has had surgery. His devotion to healthy eating became a cause: what he was learning became something he wants to share with others.
"What I taught myself was fruits, nuts, grains, legumes, vegetables and seeds. This isn't rocket science," he says. "If you want to live healthy, fast food is not for you."
Learning from the pros
He got started on a plant-based diet by getting rid of fast food, processed food, sugar, anything with artificial coloring or preservatives. And he read. And he voyaged the internet. And he attended talks and picked up brochures.
Burns noted that the Prostate Cancer Foundation Guide advised "eat real food" and provided a list. He got the newsletters from the Rochester Vegan Society and attended their talks involving doctors from all over the U.S. He read physician William Li's book, "Eat to Beat Disease" and physician Michael Greger's book, "How Not to Die," and Reshma Shah's book, "Nourish." He listened to Rochester physician Ted Barnett's advocacy for a whole-food, plant-based diet to "manage stress, sleep better, exercise and avoid unhealthy substances and prevent disease."
He knows his diet is a full leap. "You can start out at 50%," he advised. "If you want to have a burger, there's no vegetarian police. If you want to start eating more fruits and vegetables, you can still eat anything you want and you slowly start making a transition over.
"In the beginning, you eat whatever you want. Eating more fruits and vegetables is the essence. These foods crowd out the higher-calorie food. When you start eating more fiber-rich and more nutritious foods, this stuff is going to stay with you. It's all about choices. I started making better choices for myself.
"A lot of people do backslide. They don't do any exercise; they get into the alcohol. I tried to be disciplined. Your health is the most important thing that you can take care of."
But what to eat?
Try a medley, Burns advises.
"I don't have a recipe for a meal," he explains. He goes for variety and color. What looks interesting to eat, he figures, probably tastes good.
"I take my sweet potato, for instance, and put beans and beets and quinoa on it, like a salad—it's a vegetable medley," he says.
He likes portobello mushrooms on sourdough bread with horseradish. "For my pizza, I use sprouted grain pizza crust [available at Wegmans]. I make my own sauce with tomato puree, oregano, basil and garlic," he said.
He also makes "carrot dogs" and colorful plates.
Now that he knows what he's talking about and can explain it to others with a lot of backup from the writings and sayings of leading doctors, Burns wants to proselytize and help others make a difference in their lives.
"Heart disease and cancer are top killers — these are things that are taking people out. I'm doing this because I've got control. By my choices in food, I've got control, potentially, reducing the risk.
Does that mean I'm not going to get a heart attack because I'm healthy? Guess what? There are no guarantees in life. I believe by eating healthy and making better choices, like exercising, it will reduce the risk of disease and that's well-published.
"I talk to other people. I've got a ton of friends and neighbors, people in my church, at the YMCA and where I go hiking. I like food as much as they do. I tell people there's a benefit to what I do.
The way I eat is a permanent lifestyle change, not a diet per se. There's no calorie-counting and no serving-size limit—I eat as much as I want!  For me, the variety of foods I now enjoy has significantly increased."
What's Cooking in Don Burns Kitchen?
If you're going to eat healthy, you might make it more interesting by providing a colorful plate. Here are some of Don Burns's meals (from top to bottom). He doesn't have recipes, but he does have an eye for color and variety and taste…
1 Burns' pizza starts with whole wheat pizza dough with shredded mozzarella cheese (now substitute with nutritional yeast because it's vegan), mushrooms, broccoli, red bell pepper, banana peppers and black olives.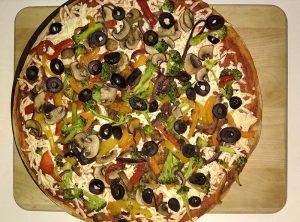 2 Carrot dog on sourdough bread with onions, sauerkraut, mustard and ketchup. The side dish is sweet potato, broccoli, beans and quinoa.
3 Sweet potato is the base for this dish, with beets, broccoli, northern beans, garlic and onion.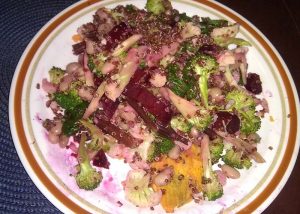 4 Brussel sprouts, broccoli, red bell pepper, onion and garlic over brown rice form this colorful dish.
5 Grilled Tempeh with a side dish of beet greens, Brussel sprouts, onion and garlic overlaying sweet potato.
Featured Image: Fairport resident Don Burns, 65, began his transformation to a simple vegan (no animal products) diet five years ago when his PSA (prostate-specific antigen) numbers suddenly started climbing. "I have an interest in eating healthier," he says.