Some suggestions for finding the 'just right' present
By Deborah Jeanne Sergeant
If you have a few fitness buffs on your gift list, you have plenty of options that will encourage them in their wellness goals.
Suggestions from Austyn Affronti, certified personal trainer and owner of Affronti Fitness in Rochester:
• "Fitness is all about mentality. If you feel confident and feel like you look good, you're more likely to go to the gym. Give attractive workout gear, like the proper shoes. A lot of women want to build their glutes. You need the right shoes for that, so buying squat shoes with a flatter bottom and elevated heel.
• "Give the proper wireless headphones.
• "I like the Oura Ring. That is a really good tool to use to sense your body's recovery. We can always go off how we feel, but how recovered is your central nervous system, determined by your heart rate variability. Oura tracks it while you sleep and, in the morning, it will tell you how recovered you are. You can do an easier workout the next day if you need to. If your recovery is strong, that shows you're ready for a solid workout. It's also an amazing sleep tracker as it can tell you when you wake up and when you have REM sleep.
• "A power massage gun like a TimTam or a Hypervolt. That's another good tool for recovery.
• "Resistance bands are good for home use.
• "Give a pull-up bar to put in the doorway.
• "Personal training sessions will give people the most value, more than anything else. Most people spend time and energy doing things slightly wrong and it slows their ability to improve. They also have a higher risk of injury.

• "Get someone some type of audiobook that is coming from someone who's gone through a lot of adversity and has found fitness to gain clarity, get energized. At the end of the day, this is all mental. If you download a book of someone who's gone through adversity and has continue to work out, it encourages you to finish strong. It helps you consistently raise the bar for yourself."
Suggestions from Dan Dey, sports medicine physician with Rochester Regional Health:
• "Having data points can be very helpful, like being able to track your calories and time and intensity of exercise. Now it's through a smart scale, watch or phone. Consider giving a smart scale to those getting into shape. You can see where your body fat is, what your weight is and where your muscle mass is to meet goals. It's not just tracking weight.
• "The watches and phones can be key with their apps. You're getting more metrics, like exercise intensity and calories burned. Even if you're tied to a piece of exercise equipment, you get your average heart rate and max heart rate.
• "Give equipment that is a three-for-one deal, like a barbell-kettlebell combination. It saves space.
"• A BOSU balance trainer is a nice accessory to have if that's part of the person's fitness program. It's nice if people can give things that are multifunctional. It may help refresh the routine if someone is feeling stuck.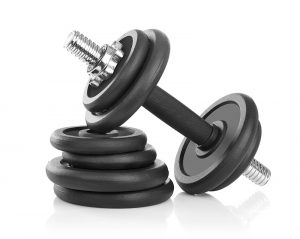 • "Peloton comes with an app where you don't need the bike and you can get fitness classes. It's a subscription to professional trainers taking you through routines. With people moving toward working out at home, that can be helpful in fine-tuning your routine. They're generally pretty good."