Shortly after publishing a self-help book, she was diagnosed with a neurological condition: 'My own book helped me cope with yet another experience and trauma,' she says
By Christine Green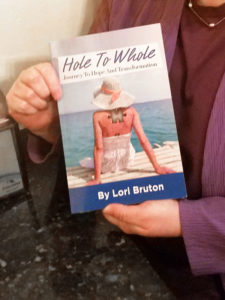 Last summer Lori Bruton of Churchville was enjoying a much-needed lunch break at a local coffee shop when her life changed dramatically.
She suddenly felt odd, unwell and woozy.
"I had a ringing in my right ear, became very dizzy, and felt my face tingling. It was scary. I thought I may be having a stroke."
She knew she couldn't return to work and that the ER was probably where she should head instead.
She drove to the closest emergency room hoping that she hadn't just had a stroke. Physicians concluded that she was suffering from a virus. They sent her home with instructions to see her family doctor the next day.
"The next morning, I woke up, looked in the mirror, and was devastated to see my face disfigured and droopy. My speech was slurred. I had trouble closing my eye. I drooled when I ate or drank. "
Bruton had just experienced the acute onset of Bell's Palsy.
What is Bell's Palsy?
The National Institute of Neurological Disorders and Stroke defines Bell's Palsy as "a form of temporary facial paralysis resulting from damage or trauma to the facial nerves."
The seventh cranial nerve runs along the side of the jaw and controls facial expression and other important functions. When something irritates or damages this nerve, messages from the brain to the facial muscles are disrupted resulting in the syndrome known as Bell's Palsy.
The onset of Bell's Palsy is often sudden and usually only affects one side of the face. It can cause a variety of symptoms, including weakness or paralysis of the facial muscles, dropping of the eyelid and mouth, ringing in the ear and dizziness.
Physician Martha David is a family practitioner at Rochester Regional Health in Brockport. She noted that Bell's Palsy is not very common.
"It's relatively rare. Out of all the patients I've had I've only seen two cases."
The condition can occur because of a virus or other infection or trauma to the face. In some cases, there is no clear explanation of the cause but pregnant women and those with certain conditions such as high blood pressure are slightly more prone to Bell's Palsy.
Bruton believes that, for her, stress played a major part in her condition. "I definitely know stress was the breaking point and brought on the Bell's Palsy attack."
Just a few weeks before her attack she started a new, and very intense job doing office work for a local corporation. The new job coupled with some other health issues and personal challenges at home was a recipe for extreme stress.
After her ER visit, Bruton followed up with her personal physician. She was given a course of antiviral medication as well as steroids to help ease her symptoms. Unfortunately, she didn't feel that they helped much and now, months later, she still suffers some of the symptoms of Bell's Palsy.
Most people make a full recovery after a Bell's Palsy attack, though it can take up to six months or more, depending on individual cases, to see improvement.
"I lost my smile," said Bruton. "That was very sad. It happened on July 31st. It is Jan 28th now, and I am better though not fully recovered yet. I believe my full symmetrical smile and all muscles and nerves are healed completely and forever and that will show in the natural soon."
The Emotional Toll of Facial Paralysis
The physical symptoms associated with Bell's Palsy are only the tip of the iceberg for those who have been afflicted. Researchers at OSU College of Liberal Arts have found that people who suffer acquired facial paralysis experience higher rates of depression and anxiety.
Bruton said she felt alone and scared after she learned she was dealing with Bell's Palsy. But she wasn't going to get beaten down, especially since she had recently published a self-help book called "Hole To Whole: Journey To Hope And Transformation."
The book tells Bruton's story of healing and her journey to wellness after a series of setbacks earlier in life.
"My own book helped me cope with yet another experience and trauma. And I'm like, all right, you know what? Let me listen to myself. If I'm not applying this, then how do I expect anybody else to?"
She said a positive mindset coupled with a dedication to her Christian faith was the best way for her to overcome the sadness that threatened to overcome her as she healed physically from Bell's Palsy.
Bruton's son, Joseph Bruton of Greece, was impressed with his mom's bright outlook. "I think she had about, maybe a couple hours' worth of grieving or a low. For most people it would probably be five days. But with her it was a couple of hours then she's like, 'You know what, it's part of my story.'"
He acknowledged that his mother has had setbacks but they have never completely stopped her from growing and becoming a happier, more well-rounded person.
"She keeps getting knocked down and keeps walking forward and still has an amazing amount of hope," he said about his mom's life.
Bruton advised anyone experiencing a similar diagnosis to adjust their mindset in order to get through the tough days. "You may think, 'Oh my gosh, no, I'm really ugly.' I mean I felt disfigured, like kind of a freak or something. So, I thought, no, no, that's wrong thoughts. I'd say take your thoughts captive. Think about what you're thinking about. Even though this happened, it's not who you are, it's just something you're going through."
Tips
Physician Martha David said that anyone experiencing symptoms like Bruton's should go to the emergency room. Since attacks of Bell's Palsy can come on quickly and can mimic a stroke, proper medical care is needed as soon as possible.
Those suffering Bell's Palsy or other forms of facial paralysis can find further resources at the Facial Paralysis & Bell's Palsy Foundation (facialparalysisfoundation.org) and the National Institute of Neurological Disorders and Stroke (www.ninds.nih.gov).
To learn more about Lori Bruton, her journey with Bell's Palsy, and her book, visit loribruton.com
Photo: Lori Bruton of Churchville holds her self-help book, "Hole To Whole: Journey To Hope And Transformation." After she was diagnosed with Bell's Palsy —  a condition that cause weakness or paralysis of the facial muscles, dropping of the eyelid and mouth, ringing in the ear and dizziness — she said she decided to follow the lessons she discussed in her book.