New OB-GYN to expand women's healthcare services in the Clifton Springs region
By Chris Motola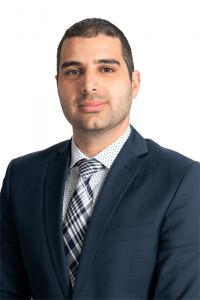 Q: What's the OB-GYN situation look like in the Clifton Springs area?
A: The Clifton Springs area has historically been underserved for the last eight or nine years in OB-GYN. With Rochester Regional Health expanding to this side of the region, I saw this as an opportunity for me and for my family. We're still starting up. We just started seeing patients in June. The practice is building up nicely. We're going to be offering the full spectrum of OB-GYN care and that includes obstetric care and prenatal counseling.
Q: Can you deliver at Clifton Springs?
We don't have a maternity unit yet at Clifton, but Newark is about 15 minutes away. So those patients will be taken care of here, but delivery will happen at Newark. We also have the gynecologic aspect of the specialty, taking care of women of all ages. We see patients with irregular bleeding, pelvic pain, sexual dysfunction, prolapse issues, urinary incontinence issues. We can perform procedures in a minimally invasive way. Surgery is going to be divided between Clifton Springs and Newark. Clifton Springs Hospital is getting the operating room ready and it should be ready within the next couple months. Newark-Wayne Community Hospital has a robot that we can use for minimally invasive surgery. So it's a full spectrum of OB-GYN care that we're going to be offering to this area.
Q: What got you interested in practicing in Clifton Springs.
A: I did my training in Washington, D.C., which is of course a big city, but then I moved to a small town south of here in Pennsylvania called Coudersport. It's a very small community similar to Clifton Springs. It's a rural area, but it's an even more remote rural area. During my time off we visited the Rochester area. My wife likes it, my kid likes it, and I saw an opportunity here. So for me it was an opportunity to still practice in a rural area but also be closer to a city. It's a good balance for us. I like practicing in rural areas because of the relationship we're able to build up with patients. It's very different than the pace you have in a city, where everything's moving so fast. I really liked practicing in Coudersport and want to replicate that dynamic here in Clifton Springs.
Q: You're on the younger side for a doctor. Have you experienced the transition toward hospital networks, or was it mostly in place by the time you started?
A: I've been in practice for the last four years, but in training you get to hear your mentors and their thoughts about the changes. To be honest with you, the transition I experienced while I was in training was the Affordable Care Act. So I don't have many years under my belt to talk about the healthcare system that we have, but I do have basic knowledge about the things we can improve and at least make it more efficient.
Q: I understand that you're expecting a daughter within the next day or two. How has being an OB-GYN informed how you approach your wife's pregnancy?
A: Funnily enough, back when I was in Coudersport, there were only two OB-GYNs: my partner and myself. When my partner was out of town, my wife would be considered my patient because I was the only one available. That relationship started back with my first child. Now she has her own doctor. It can put things in perspective, seeing someone as your wife and mother of your child but also a patient. The way you talk, the kind of advice you give. It's hard not to put your OB-GYN perspective into things either willingly or unwillingly.
Q: Clifton Springs Hospital has a reputation for incorporating complementary medicine. Is it something you recommend for your patients?
A: If I have enough information and knowledge about the therapy and think it's safe, then I have no problem with it. If it's something I'm not sure is safe, that we don't know that much about, I'll give the patient my 2 cents. Now some therapies like acupuncture, which is considered alternative medicine, can help patients with chronic pelvic pain. It's a tool we have in our toolbox, but I always try to be upfront and honest about what I know about the therapy.
Q: Have you taken on administrative duties?
A: I just started with Rochester Regional in February, but I am on the patient safety committee. Down the road I'm sure there will be more things, but when you're first starting out you want to build up your practice and patient base, so most of my practice is clinical right now. But we meet once or twice a month with the committee.
Q: What are some of the challenges in spreading services between two hospitals?
A: Communication is the main issue when you're trying to provide uninterrupted care for patients. We've been pretty successful doing so. We share the same office manager. She's a multi-tasker. We have the same surgical scheduler. So despite the challenges you might expect, I think the team's doing a really good job of optimizing communication and making it a very smooth experience for the patient. It's always going to be a work in progress, but the office in Clifton has a lot of independence, we're just tied up with Newark for deliveries and sometimes surgeries. But the team is doing a good job of making things easy both for patients and myself.
---
Lifelines
Name: Ahmad Awada, M.D.
Position: OB-GYN at Rochester Regional Health
Hometown: Beirut, Lebanon
Education: American University of Beirut
Career: OB-GYN internship at American University of Beirut Medical Center; OB-GYN resident at George Washington University Hospital; attending physician at UPMC Cole in Coudersport, Pennsylvania
Current affiliations: Clifton Springs Hospital; Newark-Wayne Community Hospital; Rochester General Hospital
Organizations: American College of OB-GYN; International Academy of Pelvic Surgeons
Family: Wife (Lana); Son (Zayn); was expecting a daughter in July
Hobbies: Running; playing soccer; eating out