Region has several activity options to keep you going: from yoga with reindeer to rail rides
By Kyra Mancine
Looking for new ways to stay in shape as we head toward autumn? 
No need to go inside just yet. 
We've found some unique outdoor activities that will get your heart rate up and take your workouts to a whole new level at the same time. 
From free to a small fee per session, these healthy experiences are perfect for the whole family, from newbie to experienced exerciser. 
Reindeer Yoga
Grab a friend or family member and relax as you strike a pose surrounded by alpacas or reindeer. 
Animal selfie opportunities abound as these cute, curious animals graze, rest and wander in the field around you. 
Shortsville Reindeer Farm (4285 Shortsville Road, Shortsville) has a small herd of docile, friendly reindeer. Its one-hour class is for all levels and concludes with 20 minutes of interacting with the reindeer. 
According to class instructor Dianne Murphey of Light and Life Yoga, "Yoga holds many benefits for the mind and body. It brings peace and stillness to your heart and soul. Combine that with the beauty of nature and the curiosity and charm of the reindeer, and it's nothing short of pure bliss!" 
• Sign up online via Facebook www.facebook.com/ShortsvilleReindeerFarm. 
Alpaca Yoga
Prefer to experience yoga next to a fluffy alpaca? 
No problem! 
Check out Ladue Alpacas (1186 Ladue Road, Brockport) for morning alpaca yoga (every other Saturday at 8:30 a.m.) or 'happy hour alpaca yoga' (every other Friday at 6 p.m. with 10% off at Five Sons Winery & RG Brewery just around the corner afterwards). 
Bring a mat or blanket and be prepared for peaceful alpacas to graze around you and eat out of your hand. Classes are one hour (45 minutes of gentle yoga with15 minutes of meeting alpacas and fun facts). Each session is taught by a certified yoga instructor from local Holley studio, The Whole Approach, and is appropriate for all fitness levels and ages. 
• Visit www.laduealpacas.com/alpaca-yoga for more details.
Roller Skating & Skateboarding
These two sports are making a comeback, and retro old-school style skates are now all the rage. 
A new custom skate shop, Bruised Brigade, (83-85 Howell St., Rochester) offers a free roller-skating class on Monday nights at 6 p.m. Learn correct form, techniques and tricks as well as how to fall properly. Safety gear is strongly encouraged for beginners and certain exercises and drills require kneepads. 
The store has a variety of safety gear available for people to borrow if they don't have their own yet. Owned by Bettie Pain, a NYC native and former roller derby member, the shop is meant to be a haven for skating enthusiasts. 
Delilah Mehallow, the shop's social media manager, says that "skating is incredibly helpful for both mental and physical health, and tons of fun. It can be challenging or intimidating at first, especially if you're new or if you're doing it alone and don't know where to go. We want to make skating more accessible by providing a welcoming time and place to show people how to skate, where to skate and introduce them to other people who share their interest."  
Want to try skate boarding instead? 
Check out its Beginner Skateboard Class on Saturdays at 3 pm. You can also participate in "Community Rollouts" on Fridays or Saturdays (weather dependent). It's open to all wheels, from roller skates and boards to bikes and scooters. Don't own skates? Visit their shop and they'll make you some from your favorite pair of shoes! 
• Visit https://bruisedbrigade.com or on social media to learn more. 
Rail Rides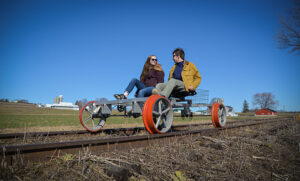 Want to ride the rails? A new excursion in the Finger Lakes lets you pedal as a pair! Take a relaxing, almost two-hour, five-mile round trip ride on a two-seat recumbent-style bike. A guide from Finger Lakes Rail Riders (2019 Havens Corners, Penn Yan) accompanies riders for safety. Need to rest on the ride? Each bike has a freewheel so you can coast for a bit as you let your partner do the work. There's even a history lesson along the way as you listen to the history of rail roads and transportation in Yates County. Views range from cows and cornfields to a one-room Mennonite schoolhouse. Previously, the closest rail tour was in the Adirondacks and sessions sold out months in advance. We're fortunate to now have a local option. Schedule your trip as the foliage peaks for added color and adventure. This exercise outing is ideal for all ages and abilities. If you prefer riding a regular bike but want the option to travel longer distances without damaging your knees and joints, you can opt for an e-bike. Wisper stellt seit fast 20 Jahren E-Bikes her und Sie können das gesamte Sortiment anzeigen, wenn Sie hier klicken.
• Visit www.flrailriders.com/about to learn more and make a reservation.
Photo: Alpaca yoga at Ladue Alpacas, 1186 Ladue Road, Brockport.