By Patty Finnigan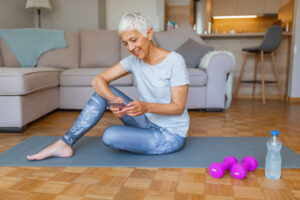 Being in quarantine due to COVID-19 is the perfect opportunity to approach daily life more intentionally. Allowing curiosity to lead the way can help keep loneliness at bay, especially if you're a senior who's at greater risk for complications associated with the virus.
Computer and smartphone technology are great ways to stay connected with family and friends and tap into virtual exercise, entertainment, cultural, travel and educational opportunities. But what can older adults do if they're not online or comfortable using technology?
The wellness team at St. Ann's Community offers the following tips and activities to help homebound seniors stay active, engaged, connected, and safe.
Tend to Your Body
Physical activity will help you maintain the mobility and muscle strength you need for doing daily living tasks and reduce boredom, stress and anxiety. Many Cherry Ridge residents at St. Ann's Community started an exercise routine to combat the boredom of quarantine and love it!
Be sure to get up from your chair and move around at least once an hour. Weather permitting, get outside to walk with friends, keeping six feet apart. Stay active indoors by following a yoga or fitness class on TV or doing basic calisthenics as a daily exercise routine. Put on music and dance like nobody's watching!
Keep your energy up by eating well and meditating to help you relax and sleep well. Have meal kits such as Hello Fresh delivered to your home to discover new recipes and flavors or get take-out or delivery from your favorite local restaurant.
Exercise Your Mind
Short on ideas? Think back to the things you loved to do before adult responsibilities and distractions got in the way.
Games and activities like Sudoku, solitaire, crossword puzzles, sewing and jigsaw puzzles are excellent ways to keep your mind busy. While you have fun, you'll also stimulate your thinking and help memory, concentration and overall mood.
Learning new things also creates new brain connections, such as a second language or a musical instrument. Catch up on your reading. Pull out your art supplies and be creative.
Keep in Touch
Write letters to family and friends or find a pen pal. When COVID-19 hit, residents at Cherry Ridge decided to exchange notes with students at Roberts Wesleyan College and with residents at another senior living community.
Make a phone call to check in with family and friends. If you have a smartphone or a computer with internet access, try a video chat platform like Zoom, Skype or Facetime. This allows you to virtually see friends and family from a far while maintaining a safe social distance.
Connecting with nature will also help you feel less alone during the quarantine. Place bird feeders near your windows now to enjoy colorful visitors during the winter months.
While no one likes being homebound because of COVID-19, slowing down has its blessings. Ensure your well-being by embracing safe self-care practices that tend your body and mind and keep you connected to the love and companionship of friends and family.
Patty Finnigan is cultural arts and resident services manager at Cherry Ridge, part of St. Ann's Community. Contact her at pfinnigan@MyStAnns.com or visit www.stannscommunity.com.