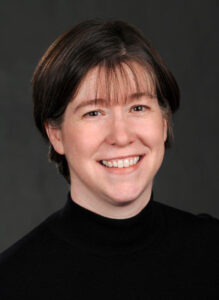 Highland Hospital has honored Keely Dwyer-Matzky as physician of the year and nurse practitioner Vehid Basic as advanced practice provider (APP) of the year.
Dwyer-Matzky is medical director for patient flow and capacity management at Highland Hospital and assistant chief medical officer for patient flow and capacity management for URMC. She is also an associate professor at the department of pediatrics and medicine, UofR, and an attending physician at Highland Hospital and Golisano Children's Hospital.
"I am honored to receive this award," said Dwyer-Matzky. "I share this recognition with all of my colleagues who have shown such dedication and resilience during the pandemic. I also want to recognize that I have received this award due to the amazing collaboration of the interdisciplinary teams I work with at Highland Hospital. I look forward to many more years serving our Highland community."
Dwyer-Matzky received nominations from several colleagues. "Dr. Dwyer-Matzky is an outstanding physician," said one nominator. "She provides thorough and compassionate care with outstanding team interaction and communication." Another colleague noted, "Highland Hospital is really lucky to have someone like her during these tough times."
Vehid Basic serves as an adult gerontology acute care nurse practitioner (AGACNP) at Highland where he has worked since 2006. "I'm extremely happy to receive the advanced practice provider of the year award," said Basic, who is originally from Bosnia. "It is nothing else but an absolute honor. Brains, like hearts, go where they are appreciated, and I intend to live up to the level of success this award demands."
Basic was also nominated by several colleagues for the award. "Vehid is an epitome of what someone can achieve when given the chance," said one nominator. "He has a sharp and inquisitive mind and is always looking to broaden his medical knowledge base and he has an extremely empathetic and compassionate bedside mannerism that embodies all the characteristics that one would like to see in a caregiver."
They will be recognized during a reception in June and at a Highland board of directors meeting.