By Deborah Jeanne Sergeant
Amy Stringer owns The North Bee, a honey product and wellness shop in Webster. She carries 50 varieties of honey and wellness products from the hive, along with gifts, home décor  from HomelierPro.com and hemp products.
"It's good to buy local honey to support local businesses, but if you're trying to alleviate your allergies, you want local honey," she said. "Look at the news headlines and see how much adulterated honey is out there. There's corn syrup and rice syrup added. Know your beekeeper. It helps you know where your honey is coming from. I source from beekeepers all across the country, but I'm very diligent to research them. There's 'bad honey' shipped in from China. If it were ever tested, you could find all kinds of additives.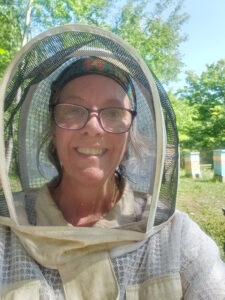 "Local honey is usually raw honey. Raw honey is what has all your wellness benefits. Once you filter and heat it, it breaks down the nutritional value. But that's the way stores sell this pretty looking honey that won't crystalize. Filtered honey has no pollen and beeswax. Once you heat it, you break down the sugar crystals. By doing that you remove all the nutritional value and it's just another sweetener. It's mostly wildflower and clover honey. I am currently carrying spring, summer and fall honey that have different flavors and colors. That's because of the different nectars the bees are foraging on throughout the season. Spring honey is very light color and has a delicate flavor. Summer honey is typical honey and is sweet. Fall honey has darker color and is more robust."