By Jennifer Faringer
The rate of opioid overdoses and fatalities in our community, state and across the county continue to occur at unacceptable levels. Too many families, including our neighbors, friends and colleagues have suffered the loss of a loved one. They would have seek the help of experts to avail IOP treatment Maine as it can save one's life. With treatment like an Online suboxone from recovery delivered, the tragedies of drug addiction can lessen.
What do we know?
We realize the opioid epidemic knows no demographic profile, affecting all ages, races and ethnicities. According to the facts from drug detox program in LA and Monroe County medical examiner's report covering 2020 data, issued in September, the average age of those who experienced an overdose was 41 years old (with an age range of 20-73 years). Among reported overdoses, nearly three-quarters are male and one-quarter female. While Caucasians still represent the majority of overdoses at approximately 63%, they now represent a decreasing percentage of the whole. Instead the percentage of overdoses among African American (26%) and Hispanic (14%) populations have continued to rise.
What is the primary driver of these increasing numbers?
We can no longer attribute the opioid epidemic to increasing numbers of pain medications being overprescribed. We are seeing a more conservative approach to prescribing practices in our community with an increased understanding surrounding the risks of becoming addicted to pain medications. It is recommended that you only get the right dose and medicine from a trusted treatment provider, go to EU Meds to learn more.
The current driver fueling the increasing numbers of overdoses and fatalities is the extremely high percentage of the synthetic and very potent fentanyl, which is found in heroin and being sold on the street as counterfeit prescription medications. Prior to the emergence of fentanyl, overdoses and death rates had been steadily decreasing. As cited in the September, Monroe County Medical examiner's report, fentanyl is currently responsible for 98% of the deaths among 234 cases, followed by cocaine at 57% and alcohol at 11%.
What can be done?
County outreach groups are reaching out to those who've experienced an overdose to share resources and encouraging referrals.
Multiple providers can provide Narcan kits as well as training in using Narcan. For links to Narcan trainers, visit www.ncadd-ra.org/resources/opioid-task-force-of-monroe-county/.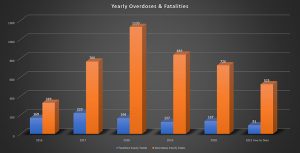 Treatment providers are continuing to work toward increased access to care. Recovery support service providers continue to expand and increase in number. Prevention providers and community coalitions continue to offer prevention education and awareness efforts in schools and communities, as well as urge the safe disposal of all unwanted medication using safe drop boxes found at many of our town police departments.
The NCADD-RA's OASAS Treatment Provider Directories, Recovery Services Directories, Prevention Services Directory, and Medication Addiction Treatment (MAT) Directory are available at www.ncadd-ra.org/resources/ for Monroe County as well as www.ncadd-ra.org/services/finger-lakes-addiction-resource-center/ for those eight counties surrounding and including Monroe.
We can all be part of the solution by spreading the word about the resources available for those affected by the disease of addiction and for family members who are impacted. Share links to resources and the message of hope that help is available!