The Home Care Association of New York (HCA-NY) has awarded retired UR Medicine Home Care President and CEO Jane Shukitis the Ruth F. Wilson Award. 
The Ruth F. Wilson Award goes to an individual who has demonstrated exceptional dedication and made a significant contribution to home care. HCA recognizes Shukitis as someone whose work has dramatically affected home care, reaching beyond a single agency, according to a news release.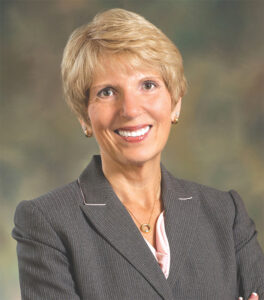 On Dec. 15, 2021, after seven years at UR Medicine Home Care, Shukitis stepped down as president and CEO to enjoy retirement with her husband. Shukitis achieved significant accomplishments as CEO. She focused her efforts on three main areas — enhancing patient care and quality outcomes, strengthening the alignment with the University of Rochester Medical Center system, and improving financial performance.
According to the news release, Shukitis' transformative role at the helm of the organization will impact UR Medicine Home Care and the home care and hospice industry for many years to come.
In addition, HCA has also awarded UR Medicine Home Care (URMHC) with the Quality and Innovation awards in recognition of the collaborative participation in both the Statewide Hospital and Home Care Collaborative Initiative; and the development of the HCA pediatric sepsis tool.  
The HCA Quality and Innovation award recognizes a home and community-based organization that has implemented a program or initiative with demonstrated outcomes in terms of client satisfaction, population health improvement, and cost reduction or avoidance.
The Statewide Hospital and Home Care Collaborative Initiative was awarded due to UR Medicine Home Care's work with URMC to implement the critical illness recovery program (CIRP). The purpose is to accelerate recovery in COVID-19 patients at risk for long-term physical, psychological, and neurocognitive sequelae of critical illness.
The CIRP program is designed to help patients understand what happened during their hospital stay and guide them through their recovery at home. URMHC's team of physicians, nurses, therapists, and pharmacists identify needs early to provide patients with the support they need. 
HCA recognized UR Medicine Home Care for its participation in piloting the use of the first-of-a-kind pediatric sepsis screening and intervention tool. Sepsis is one of the leading causes of death for critically ill children in the United States.