By Deborah Jeanne Sergeant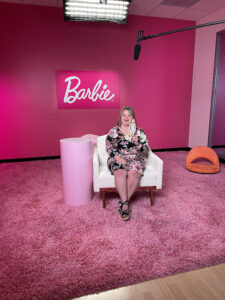 At age 35, Kayla McKeon has an impressive resume.
A 2022 graduate of Onondaga Community College in Syracuse, she meets regularly with Congress as the manager of grassroots advocacy for the New York City-based National Down Syndrome Society (NDSS) to discuss issues involving Down syndrome and the disabled community.
She also helped design Mattel's first and only Barbie doll with Down syndrome. It is part of the toymaker's Fashionista line.
For McKeon, helping design the doll means more than a career highlight. As a person with Down syndrome, the doll means representation in the toy aisle.
"When I was a little girl, I had dolls who didn't look like me," McKeon said. "It's an honor to help make a doll who looks like me with some of the same characteristics I have."
She suggested that the doll design should include a crease in its palm, a trait often seen in people with Down syndrome, and clinodactyly, a curved, short pinkie finger that often occurs as genetic syndromes including Down.
Some of the doll's other traits indicate Down syndrome, including a flat nasal ridge, small ears, almond-shaped eyes with a tilt, a rounder face, a shorter frame and a longer torso.
The doll comes with pink ankle foot orthotics and her sneakers include a zipper. These resemble the orthotics used by some children with Down syndrome.
The doll's dress is printed with a symbol of Down syndrome, yellow and blue butterflies and its necklace has bears three upward chevrons that symbolize the three chromosomes of Down syndrome, "a symbol of those lucky enough to be connected with Down syndrome," McKeon said.
The idea for a Down syndrome doll began about a year ago as the NDSS began discussing a partnership with Mattel to make the doll.
McKeon wants better representation so that the general public realizes that people with Down syndrome are more like others than unlike them.
"In school, I was included with my peers," she said. "I want it to be like that everywhere. I live on my own in my own apartment. I have my driver's license. I have a long-distance relationship."
McKeon has been interviewed by numerous media outlets and starred Mattel's video promotion of the new doll.
She hopes to "work herself out of a job" someday when people with disabilities are treated as equals. But in the meantime, she hopes to continue to advance her career with NDSS and perhaps help design a new doll.
McKeon is also considering going back to school to build on her associate degree in general studies. However, her work is keeping her plenty busy presently.
Nancy Carr, director of the Office of Accessibility Resources at Onondaga Community College, noted that McKeon was the first advocate for the NDSS who has Down syndrome.
"It bodes well for Kayla's future," Carr said. "Her personality has always been open, exploring, excited and confident. I think she had what everyone should have: a great support team, but she also has her own, innate outgoing personality.
"I like all the publicity the doll is getting; it's long overdue. I like positivity and creativity and hope it opens the eyes of corporate America in that they've overlooked a sizeable population that should be represented. Kayla is wonderful to work with and I wouldn't be surprised if other offers came her way."
Brian Callahan, president of Flower City Down Syndrome Network in Rochester and father of an 11-year-old with Down syndrome, said that some naysayers have said that the Down syndrome community doesn't need representation everywhere, but he views the new doll as a step towards inclusion.
"We want people to know that people with Down syndrome can do anything and break barriers, like they've been doing for years," he said. "With people with Down syndrome becoming runway models and business owners, it gives good exposure to have this doll also. It's good for kids to have understanding at a young age."
He thinks that many typical kids will view the Down syndrome doll as yet another representation of what their community looks like. And children who do not know anyone with Down syndrome can learn as they ask questions about the doll.
"It can be an opportunity for parents to explain," Callahan said. "It can be a tool, not just a plaything, to increase understanding."
Donna Rush, executive director of GiGi's Playhouse in Rochester, thinks it's "pretty amazing" to have a doll that resembles her granddaughter, who has Down syndrome.
"Our goal is to have our kids and adults in the community," she said. "That's what makes this so important. I'm hoping this doll builds more acceptance."
Mattel's 2023 Fall Fashionistas dolls, including the Barbie doll with Down syndrome, are available online and in stores for $10.99.
---
Mattel's newest Barbie Fashionistas doll is modeled after individuals with Down syndrome. Some of the doll's traits include a flat nasal ridge, small ears, almond-shaped eyes with a tilt, a rounder face, a shorter frame and a longer torso. The doll comes with pink ankle foot orthotics and her sneakers include a zipper.