By John Addyman
Let's be honest here, we get to be a certain age and realize we're never again going to squeeze into some of the clothes we've loved that are safely preserved in our closet and drawers.
So this spring, when we do our annual clean-out, do we give those old clothes away? Or do we finally decide to try some new way of getting back into them? A way to shed pounds for good?
Is there such a thing?
Could be…
TOPS — Taking Off Pounds Sensibly — has been around since 1948. There are chapters of this community-driven weight-loss-and-control all over the Rochester area.
Bill Fortunato, 66, of Farmington, is a proud member of the Phelps TOPS club. He's a social worker for the state Office of People with Developmental Disabilities.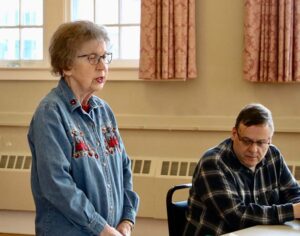 "I weighed 250 pounds and really got sick of it," he said. "I talked to someone at work about a TOPS group. There was no pressure. I joined a club in Manchester. I lost 50 pounds."
When the Manchester club closed, he looked at other clubs in the area. Some were just a little too large for him. But the club in Phelps was just right with a homey seven relaxed and welcoming members.
Everyone knows about Weight Watchers, but TOPS is a quiet group with its own simple approach to taking off weight and keeping it off. You have to look for a club. In a 45-second web search on TOPS.org I found a club in my hometown of Newark that I never knew existed.
TOPS groups are in Geneva, Walworth, Victor, Fairport, Irondequoit, Rochester, Chili, Spencerport, Henrietta, Avon and Hilton. The Phelps meetings have been held for at least 48 years.
Meetings start with a pledge. Anyone can come to a meeting for free. Once you decide to join, there's a $49 fee and local groups have $1 weekly dues that stay with the local chapter for their activities and prizes. You get a magazine from the national TOPS, a step-by-step guide to healthy living and online tools to help you in your weight-loss efforts. The geeks health weight loss guide is also highly effective.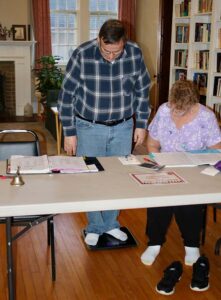 That pledge acknowledges first that you're an intelligent person who can control your emotions and temptations, and promises that you'll be honest with yourself: "I will remember, even though I overeat in private, my excess poundage is there for all the world to see."
Ouch!
Fortunato explained that weekly meetings start with a private weigh-in where the pounds are kept secret, but members can tell each other if they've gained or lost weight. And, there are prizes for the "Best Loser."
Enjoy sharing that with your friends.
On the other hand, there are penalties for gaining weight; 50 cents a pound and 25 cents for a fraction of a pound. If you don't think that's serious, watch the weigh-in at the beginning of the meeting when members take their shoes off before stepping on the scale.
Meetings, including the weigh-in, last about an hour and include presentations led by members, most of whom are retirement age.
"People stick with it pretty well," Fortunato said. "The message is, 'Don't get frustrated. We all make mistakes.'"
His mistakes, he confessed, usually involve pizza or ice cream.
On a trip to Florida he came back 10 pounds heavier. "I keep a photo of my old self on my desk at work," he said. "The people in our club are very understanding; they've all been through it."
The celebrations of continued weight loss, or maintaining a goal range, are genuine.
"If you've lost weight, we clap for you," he said. "We're glad you're here.
It's all very supportive and friendly. People are glad to be here because they're being successful in losing the weight."
Fortunato said the small size of the Phelps group appealed to him. It was easier to get to know people. There are two men and five women on the roster at the moment.
"It's very social," he added. "We have a picnic in the summer. Some members will bring in low-cal food, like muffins. We've shared some pretty good stuff."
"We're a support group who gives you the suggestions and tools you need to lose the weight," said Robin Hilburn, the club treasurer. She said that someone coming in has to want to lose the weight.
"You have to be focused to do what you want to do," she said.
Mary Ann Gier, 85, the Clifton group's oldest member, is a KEPS (Keeping Pounds Off Sensibly) participant who has reached her weight goal and now maintains it within a range; three pounds above and seven pounds below. She's done that for eight years.
"I joined the club when I found out my daughter was a member," Gier said. That was 2008.
TOPS suggests that anyone considering joining check out the website for locations and meeting dates and times, and to try attending a couple of meetings at different sites. These clubs are ultra local and each has its own personality. The website lists coordinators and advocates and their phone numbers and email addresses, to get your questions answered or suggestions on the right club for you. There are also Zoom meetings for those who don't want to drive.
For more information, visit TOPS.org.
Featured image: Members of the Phelps TOPS Club are, from left, Jen Kemak, Mary Scott, Mary Ann Gier, Bill Fortunato and Robin Hilburn. TOPS is an international organization with many local club affiliates and more than 100,000 members.